Books to Aid with Financial Literacy
10/9/2013, 2 p.m.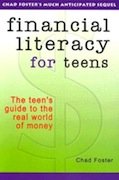 Financial Literacy for Teens
By Chad Foster
This book will help young people develop good financial habits at an early age - habits that will enable them to successfully make, manage, multiply, and protect their hard-earned money. Foster motivates teens and reminds them that their choice is crystal clear: learn now or pay later! [The author talks about]: Credit Card debt; needs vs. wants; multiplying money; insurance essentials; secrets to saving; Internet scams.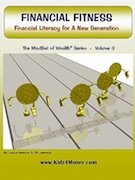 Financial Fitness: Financial Literacy for a New Generation
By Lattice Hardwick and G.W. Lawrence
Finally, a Financial Literacy workbook designed for teens, tweens, and young adults that delivers its lessons from a perspective of a 'MindSet of Wealth.' FINANCIAL FITNESS is Volume 3 of 'The MindSet of Wealth ' book series. It challenges youth to stand up not sit back and to take control not be controlled. It looks at financial literacy as a tool-belt for building wealth and not a color-by-number handbook for financial survival.
The Everything Guide to Personal Finance for Single Mothers Book
A Step-by-step Plan for Achieving Financial Independence
By Susan Reynolds and Robert Bexton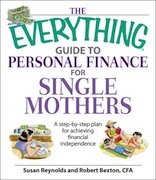 Are you a single mother who worries about your family's financial future? The Everything Guide to Personal Finance for Single Mothers has the savvy financial advice you really need. Packed with helpful tips and sound financial practices, this practical yet inspirational guide leads you on a step-by-step journey to financial independence and security. This guide features tools to help you: Assess current financial health; Set goals near and far; Narrow the wage gap; and conquer debt. From how to get out of debt, establish good credit, and qualify for a mortgage to opening a college fund, planning for retirement, and even starting your own business, The Everything Guide to Personal Finance for Single Mothers is the financial advisor you need to secure your future-and that of your children. Susan Reynolds is a journalist, author, businesswoman, and single mother who handles her own financial affairs, including managing her retirement fund. Robert A. Bexton, CFA, has been an investment analyst since 1999. Currently, he manages $70 million of clients' assets for Moirai Capital Management. He holds the prestigious Chartered Financial Analyst designation and earned a B.A. in Economics from UC Berkeley.
Do I Look Like an ATM?
A Parent's Guide to Raising Financially Responsible African American Children
By Sabrina Lamb
Youth financial education is an urgent issue, and author Sabrina Lamb believes that African American parents first must reeducate themselves about finances to make sure the next generation does not fall into the spending trap that can be a family legacy. The lack of a healthy financial education has generational impact, causing families to be financially vulnerable, squander financial resources, and fail at wealth accumulation. With step-by-step advice and exercises for parents and young people, "Do I Look like an ATM?" sets out to establish new financial behavior so children will avoid the personal economic problems that have plagued the culture. The book guides parents through self-examination of their financial habits. By performing the exercises in this book and having candid discussions, parents can, together with their children, become engaged citizens in the world of money. With new financial traditions and a better understanding money and its meaning, the next generation will realize the true power of wealth and use their money wisely.