Cirque Producer Brings Steeds, Dreams to Area
Normand Latourelle's Cavalia's Odysseo Opens at National Harbor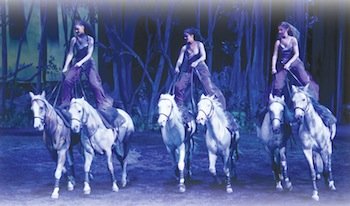 Normand Latourelle helped to create Cirque du Soleil, a dramatic mix of circus arts and street entertainment that's become the largest theatrical production in the world.
Cirque has earned the 58-year-old Canadian entrepreneur hundreds of millions in gross revenues, but it wasn't until he developed his new touring show that Latourelle realized his dreams.
"When you dream, it's not always realistic," Latourelle said. "But, if the dream comes as easy as one, two, three, that means that it is a realistic dream and having a show with horses has been that dream for me."
The show, Cavalia's Odysseo, a $30 million production, opens Wednesday, Oct. 9 and runs through Sunday, Oct. 27, at the Plateau at National Harbor in Prince George's County.
The show features a combination of what Latourelle called his dreams, including a mythological horse with wings – similar to Pegasus – that features the spirit of the horse's rider flying clad in a flowing gown and hovering above the horse.
There's a jumping competition between horses and acrobats in the two-and-a-half-hour show, which also features a lush forest with musicians dangling from trees in song.
"The stage is humungous, really large with big mountains," Latourelle said. "I think those who see the show will always remember it."
Prior to arriving in the District, Latourelle, an avid horseman, said he spent time admiring the elaborate nature of the production and the crews who worked to put the stage together.
No less than 80 people played a role in installing what's recognized as the largest touring tent in the world. Technical and logistics teams worked diligently to transform National Harbor into an upscale showplace, which Latourelle calls, "Odysseo Village."
A total of five tents have been erected, including the imposing White Big Top.
The show consists of 64 horses and 49 artists and, it marries the equestrian arts, stage arts and high-tech theatrical effects that Latourelle guarantees has never been seen before.
"There are three-story mountains on the stage and audiences will see it in what I call, 6-D," Latourelle said. "Everything will be up close and personal. This show truly indulges our wildest artist ambitions. There are 10,000 tons of stone, earth and sand to create this phenomenal open space where man and horse come to enjoy each other's company in complete complicity. I wanted the stage to be completely free of masts and obstructions, giving our creative team freedom to design any scenes we could imagine for our two and four-legged performers," he said.
As if that weren't enough visual stimulation, Latourelle said a full-sized Merry-Go-Round will hang over the colossal stage, which has the ability to support as much as 80 tons of equipment.
Designer Marc Labelle conceived the show's Big White Top in Canada, while a team of engineers in New York and Italy designed the canvas structures that took 11 months to create.
Oddly enough, Latourelle said he originally wanted to be a doctor, but changed his mind the first time he went to a hospital because of an illness at age 11. "Then, I thought about being a politician but I was a bit too rebellious for that," he said.
He then began putting together small shows and learned about sound, light design, stage production and, "I became a jack-of-all-trades," he said.
Cirque du Soleil happened almost by accident. Latourelle said a regular festival in Quebec hired him to do an outdoor show but rain forced it under the Big Top.
"That's really how Cirque du Soleil was conceived," he said.
Eventually, Latourelle moved away from the show, which now has many incarnations, and branched out to produce what some have called, "Cirque du Soleil with horses."
He's confident that other ideas will surface, possibly replacing Odysseo.
"I don't know where they come from, the ideas. They pop into my head and I go with them," he said. "I wake up in the morning and say, 'Let's try jumping. What can we do with jumping?' And then, I work. I find a way to do it."