D.C. Charter Schools Brace for Effects of Government Shutdown
Dorothy Rowley | 10/9/2013, 7:30 p.m. | Updated on 10/11/2013, 1:21 p.m.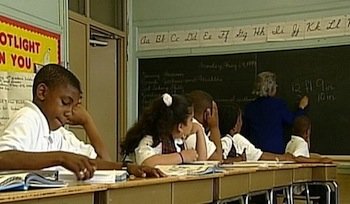 The effect of the federal government shutdown that began nearly two weeks ago is making its way into the District's public charter school system, as officials fret about their ongoing ability to educate students and ensure that faculty and staff remain intact.
Ramona Edelin, executive director of the DC Association of Chartered Public Schools, said that quickly resolving the shutdown is critical to the viability of the 57 charter schools that serve more than 35,000 students — many of whom come from disadvantaged backgrounds.
During the annual meeting of the D.C. Association of Chartered Public Schools, Edelin said it was blatantly stated that unless the shutdown was resolved, no money would be forthcoming this month to the charters.
"We feel that the mayor, working with what funds he has, has to consider all the personnel in the local government, and in that case, those reserves will run out at some point," Edelin said. "But as for the quarterly payments that go to charter schools — that's a different issue. If the Oct. 15 payment isn't made, it will seriously compromise the education of the more than 43 percent of students who attend the public charter schools in D.C."
Gray has requested via letter to meet with President Obama, Senate House Speaker John Boehner and Majority Leader Harry Reid to discuss the local effects of the country's first government shutdown in 18 years. The furloughs of thousands of federal workers have already brought many essential services and programs to a standstill, and are threatening other public necessities as well.
During an Oct. 9 press conference, Gray said because the District lacks budget autonomy and is currently operating emergency funding approved by the D.C. Council, he's worried about how its bills — including the upcoming payment to the charter schools — will be paid.
With situation now becoming desperate, "all we want is for the District of Columbia to be able to spend its own money," Gray said.
Edelin said that since the charters essentially had no backup plan in case of a shutdown, the schools — each of which act as their own local education agency — are left to largely fend for themselves.
"We've made all of our schools aware of the problem, and some of them have already started to get loans from lending institutions," Edelin said. "It's a terrible price to pay because students will suffer the most. … Students at charter schools are performing better than both the city and national averages — and that should not be interrupted with the shutdown."
Donald Hense, Friendship Public Charter School CEO and board chairman, agreed.
"Charter schools depend very heavily on the per pupil money that comes on the quarterly basis," Hense said. "Unlike District of Columbia Public Schools, we don't get all of our money at the beginning of the fiscal year, and while we got our first payment in July, the second payment [is in jeopardy]. So it's likely that many charter schools will be shy of operating cash at this time."
Hense explained that because of their varying enrollments, not all charters have reserve funds on hand.
He said that most charter schools are small, and campuses that enroll 500 students are considered as large facilities. Friendship, the largest charter organization in the District, employs more than 600 people and enrolls at least 6,000 students at its six academies.
"Our charter school organization made an arrangement with a local bank and if Friendship and other charters qualify, they can obtain bridge loans involving a private application process," Hense said.
Another concern is that because charter schools are subjected to credit ratings, they have to pay their bills on time.
To that end, "it stands to reason that if our credit is bad, no one's going to lend us money," Hense said. "At this point, Mayor Gray, who has about a month to three months of money available, is at the limit of what he can do, and there's no place else for him to get more money. The worst case scenario is that our students and employees will be sent home — and our bills won't be paid."