Freedom House Museum Brings Slavery to Life
Margaret Summers | 10/9/2013, 3 p.m.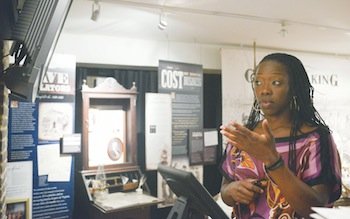 A feature film set for release in the District on Friday, Oct. 18 will briefly spotlight what was once a "holding pen" for slaves in Alexandria, Va., before the Civil War. "12 Years a Slave" is based on the true story of Solomon Northup, a free African-American man in upstate New York who was kidnapped and sold into slavery. Northup counts among the thousands of slaves shipped from 1315 Duke Street to states in the Deep South.
Ironically, the building now houses the Northern Virginia Urban League, a civil rights organization. The basement "holding pen" where an Alexandria-based company earned millions from sales of human chattel is now the interactive Freedom House Museum.
"Isaac Franklin and John Armfield bought this building from a soldier in 1808," said Julian Kiganda, 37, managing partner of Vibrant, the Silver Spring-based company which designed the museum and its exhibits. "Armfield and his family lived on the second floor of the building, while slaves were held in the basement."
The museum opened five years ago on February 12, the birth date of President Abraham Lincoln, who freed slaves in the Confederate states. Its hours of operation are Monday through Friday from 10 a.m. to 4 p.m. for self-guided tours, and Saturdays from 10 a.m. to 2 p.m. by appointment for guided tours.
Several factors made the company prosperous, said Kiganda. In 1808, the U.S. outlawed international slave trading, ending slave importation from Africa, but leaving a surplus of domestic slaves in Virginia. Too much tobacco planting and harvesting exhausted Virginia's soil, profits from tobacco growing declined, and the need for slaves to harvest tobacco decreased. Meanwhile, demand for cotton, called "white gold" in the Deep Southern states, soared, and slave labor was desperately needed for planting and harvesting. "Franklin and Armfield employed agents to visit Virginia plantations and buy surplus slaves," said Kiganda.
Museum visitors learn how it felt to be separated from loved ones, placed in the "holding pen," and sent further South to labor in the cotton fields. A replica of the original heavy wooden door with iron bars over its window opens into the basement. The names, ages and sale prices of slaves sold through the Franklin and Armfield Company are painted on the wall beside the staircase. One example is "Betsy and her children, $920, 25 years old. Clem, 9, Ellen, 5, Susan, 4," which provides visitors to the museum with a description of how slaves were sold.
"We found actual manifests listing the slaves and their sale prices," Kiganda said.
"Abolitionists who opposed slavery visited the holding pen to investigate the slaves' living conditions and reported on them," said Kiganda. Some of their comments are displayed on signage in the museum.
Most of the company's slaves were relatively well cared for, Kiganda said, primarily because healthy, well-dressed slaves sold better in the slave markets. The museum features mannequins wearing dirty, raggedy clothing that slaves might have worn when they were brought to the Franklin and Armfield Company, and drawings of clean, well-dressed slaves as they appeared in slave markets. The exhibit includes a sample of greasy "pot likker," the liquid left over from cooking field greens with animal fat, in a tin can. "This was rubbed on the slaves' faces to make them look shiny and healthy," said Kiganda.