Freedom House Museum Brings Slavery to Life
Margaret Summers | 10/9/2013, 3 p.m.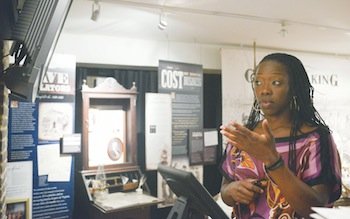 Franklin and Armfield transported the slaves to the Deep South in ships. "They were used only during the winter months," Kiganda explained. "In the summer, Franklin and Armfield chained the slaves together and made them walk 1,000 miles from Alexandria to Natchez, Mississippi and New Orleans, Louisiana." Slave chains are displayed in the museum. "We encourage people to touch the chains and other items in the exhibit," said Kiganda.
It cost $25 per slave, or $40,000, to transport slaves in ships. There were usually 100 slaves crowded into each ship.
Slavery was so lucrative that the expense of transporting them was earned back several times over. Kiganda said slaves were worth up to $30,000 in today's dollars. Cotton picked by a single slave in a year was worth $2,400. Slaves picked about 200 pounds of cotton a day. "It was hard work; the leaves (around the cotton bolls) were sharp and cut the slaves' hands. Slaves could not wear (protective) gloves," she said.
Between 1831 and 1832, said Kiganda, Franklin and Armfield amassed $250,000, or $6 million in today's dollars. Adding to the profits were their sales of "Fancy Girls" into prostitution. "Fancy Girls" were mulatto (half white, half African American) and quadroon (one quarter African American).
Franklin and Armfield retired in 1836, said Kiganda. Armfield used some of his fortune to found the University of the South in Sewanee, Tenn., an institution which still exists.
Kiganda said it has been challenging for the museum to find accounts of individual slaves sold by the company. Northern Virginia Urban League president and CEO Cynthia Dinkins said that she hopes to obtain more narratives of slaves sold by Franklin and Armfield.
Besides Northup's story, Lewis Henry Bailey, also sold by Franklin and Armfield, is one of the few whose story is documented. "Bailey was taken from his mother and sold to people in Texas," Kiganda said. Freed in 1863, Bailey walked from Texas to Virginia and reunited with his mother. In later years, Bailey founded several schools and churches in Virginia, including Little Zion Baptist Church in Burke, which is still active.
"Designing this museum was a life-changing experience," said the Uganda-born Kiganda, who came to the U.S. with her family at age three. "This project encouraged me to investigate my own roots. I realized that many of the slaves in the U.S. were first generation Africans. Their story is my story."
"This museum taught me about the importance of knowing our history," Kiganda said. "As black people, we have no clue that a lot of the issues in our communities today originated during slavery." Despite the hardships African Americans endured, Kiganda said, "they were en-slaved, not 'slaves.' If a former slave like Lewis Henry Bailey could accomplish everything he did, there's nothing we (African Americans) can't do."