GOP, Democrats Still at Loggerheads as Shutdown Drags On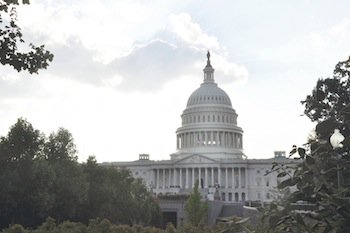 It's Week Two of a government shutdown which has paralyzed the nation and brought government operations to a virtual standstill.
Rep. Donna Edwards (D-Md.) said her office has been fielding telephone calls from federal employees who want to be working but who, because of actions by House Speaker John Boehner (R-Ohio) and a few dozen Tea Party members, are at home twiddling their thumbs.

"They don't understand why this is going on. They're held hostage while the government is shut down," said Edwards during an interview Monday. "They're taking care of elderly parents, children. They don't have any wiggle room."
Edwards co-sponsored a bill that will give retroactive pay to furloughed federal employees.
" … It is the American people, including millions of federal workers, and the U.S. economy who will pay the price," she said in a statement last week. Edwards said federal workers have endured a pay freeze for the last three years and the sequestration that forced many to take unpaid furloughs.
Edwards, who represents Maryland's Fourth District, said she's outraged and dismayed that House Republicans have chosen this "reckless and unnecessary" route in an effort to force President Barack Obama to dismantle the Affordable Care Act (ACA). Prior to the Oct. 1 shutdown, House Republicans sent three continuing resolutions [funding bills] to the Senate, including one which would have kept the government running through Sunday, Dec. 15. Each was rejected and Senate Majority Leader Harry Reid (D-Nev.), said all Democrats want is a "clean" spending bill.
The ACA is at the heart of the budget dispute. Conservative House Republicans and Texas Sen. Ted Cruz are intent on killing the law. So far, the House Republican Caucus has failed to repeal, delay, defund or obstruct the (ACA), dubbed Obamacare. Despite GOP efforts, about 45 million uninsured Americans began signing up for health insurance coverage on Oct. 1.
Edwards said she is totally against Republicans' attempts to wrestle an agreement from Obama and Democrats for ideological reasons.
"I think the Republicans are really playing with fire. [The shutdown will result in a] drop in the stock market and erosion of growth, she said. "The president is right. They need to do their job and pay the bills. There is no real negotiation. With the debt ceiling, you cannot negotiate around the full faith and credit of the United States."
Edwards said the public feels very strongly that a shutdown isn't the way to achieve the GOP's goals. And even people who are critical of the law disagree with the GOP's desire to kill it.
Mayor Vincent C. Gray (D) refused to furlough District employees and declared them all "essential" employees. The administration is using between $200 million and $300 million of city money to pay salaries and wages.
"Thanks to the leadership of Mayor Gray and the city council, the impact has not been felt because they are using the 'Rainy Day' fund money to keep workers on the job and will be able to pay people for two weeks," said Joslyn Williams, president of the Washington Metropolitan Chapter of the AFL-CIO. "If [the shutdown] isn't settled by then, they'll have a decision to make: close government down or use more funds."