Laurel Prep Program Provides Second Chances
Fifth-Year Students Have an Opportunity to Excel in Sports, Academics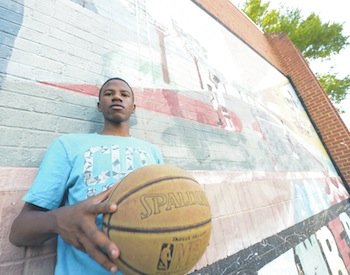 Randall Nelson grew up believing basketball was the only thing he could ever trust.
Nelson, 19, of Southwest was an orphan by the age of four. By age 10, he ran away from an abusive relative who had been his caregiver before being taken in by a family friend. He spent years bouncing from schools in the District and Prince George's County. However, he always found focus in playing basketball, a sport his father once told him he'd have to work hard for, even when his focus in school waned.
"I knew I was going to move eventually," he said. "I never put much effort into school."
His lack of focus in school and constantly moving caused him to repeat his senior year at Forestville Military Academy. Even worse, at age 19, he no longer qualified to play basketball in Prince George's County Public Schools. He said he was on the verge of dropping out before learning about the Laurel Prep Academy, an alternative education facility that allows him to continue playing basketball and earn his diploma.
"Yes, I've got another chance at life. I'm not going to mess up this time," Nelson said.
The school was founded in 2012 at the Laurel Boys and Girls Club by Levet Brown, executive director of the club, and a volunteer at the club, Harri Cox, whose son was disabled and could not participate in athletic programs in the county school system because he was 19. Brown said he saw a correlation between dropout rates for fifth-year high school students and their ineligibility to participate in athletic programs.
"Anytime you have kids dropping out, you have to have something in place to enable them," Brown said. "This is a second chance for [students]."
Prince George's County school system has an enrollment of more than 127,000 students making it the second largest school district in the state, according to the Maryland State Department of Education. The county's graduation rate is 72.87 percent as of 2012, down from 74.63 percent in 2011. By comparison, Montgomery County Public Schools, Maryland's largest school district, had a graduation rate of 87.4 percent in 2012, a slight increase from the previous year, according to the Maryland State Department of Education.
Within the state of Maryland, students 19 or older cannot participate in athletic programs in public schools. Students who have been in high school for more than four years bear the brunt of the rule, Brown said.
The academy has attracted mostly male applicants who are overwhelmingly African American. Brown said the students enroll from throughout the region, but most of them have attended schools within Prince George's County and lost interest in school because they weren't able to play sports.
"A lot of them just drop out because they have no incentive," he said.
Within Prince George's County, the dropout rate among black males increased to 22.8 percent in 2012, according to the Maryland State Department of Education.
The academy formed a partnership with National High School, an accreditation program that provides curriculum to the school and accredits its diplomas. Students are instructed by a staff of volunteers at the Boys and Girls Club in addition to taking classes online. The academy formed its own athletics program and allows students up to the age of 20 to participate; teams compete against other prep schools.