Laurel Prep Program Provides Second Chances
Fifth-Year Students Have an Opportunity to Excel in Sports, Academics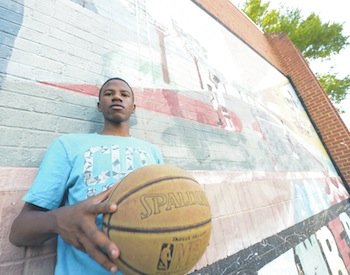 Brown said he and the volunteers help market the students to prospective colleges and universities, some students have already graduated from the program and have received athletic scholarships for college.
And for students spending a fifth year in high school, the academy has given them a second chance to score higher grades and impress college admission officers.
Charles Kwarteng, 19, of Elkridge said he was off to a rough start during his fourth year in high school during the 2012-13 academic year. A native of Ghana before moving to the U.S. last year, Kwarteng said he battled a spat of illnesses including malaria and typhoid fever before enrolling in Long Reach High School in Howard County.
At a height of 6-foot-6, school administrators initially thought Kwarteng lied about his age when he joined the school's basketball team. He said recovering from his illnesses and adjusting to the U.S. prevented him from concentrating on his studies during his senior year. He knew that he'd be spending a fifth year in high school but didn't expect not to be able to play basketball, a sport he dreamed of coming to the U.S. and playing since he was a young child.
"I was sad. I didn't really get my opportunity to show what I could do here," he said. "When I learned I couldn't play the following year, it messed me up even more … I just knew basketball was something I wanted to do."
As a student in the academy, Kwarteng plays on its basketball team and competes against other prep schools and some colleges, said Brown. Kwarteng still attends Long Reach High School but can now qualify for athletic scholarships to college. He said he wants to get into a Division 1 or Division 2 school and wants to pursue a degree in business and marketing.
"I have options now," he said. "I feel like I am headed somewhere. I feel like I am headed in the right direction."