Redskins Owner Snyder Refuses to Budge on Team Name
'Cannot Ignore Our 81-Year History'
WI Web Staff | 10/9/2013, 11 p.m.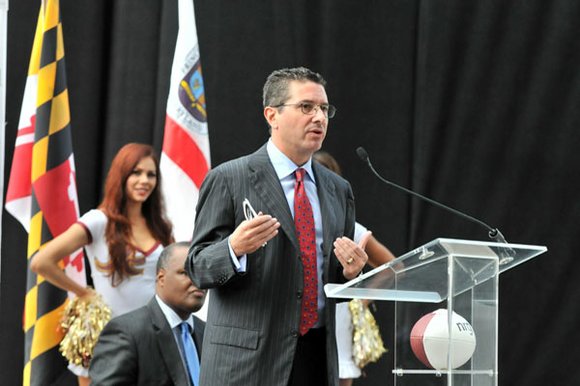 Washington Redskins owner Daniel Snyder staunchly defended his decision to keep the team's name on Wednesday amid a growing opposition that has gathered steam after President Obama recently weighed in on the topic.
In a letter to season-ticket holders, Snyder said that while he was cognizant of the criticism of the name — which many consider a disparaging term for Native Americans — the team's tradition and legacy is too important to consider a switch.
"I've listened carefully to the commentary and perspectives on all sides, and I respect the feelings of those who are offended by the team name," he said. "But I hope such individuals also try to respect what the name means, not only for all of us in the extended Washington Redskins family, but among Native Americans too."
Snyder, a "lifelong" Redskins fan who purchased the team from Jack Kent Cooke for $800 million in 1999, wrote in the letter of attending his first Redskins game at 6 years old with his late father. He spoke of when the franchise in 1932, then located in Boston, changed the team name to the Redskins.
"On that inaugural Redskins team, four players and our head coach were Native Americans," he said. "The name was never a label. It was, and continues to be, a badge of honor."
The issue has always been a contentious one, but has heated up in recent years as other sports teams with nicknames deemed racially insensitive toward Native Americans have changed in an era of increased political correctness.
President Obama said earlier this month that he would consider changing the name if he owned the team.
"I respect the opinions of those who disagree. I want them to know that I do hear them, and I will continue to listen and learn," Snyder said. "But we cannot ignore our 81-year history, or the strong feelings of most of our fans as well as Native Americans throughout the country. After 81 years, the team name 'Redskins' continues to hold the memories and meaning of where we came from, who we are, and who we want to be in the years to come."