THE RELIGION CORNER: Domestic Violence Month — Blood Relatives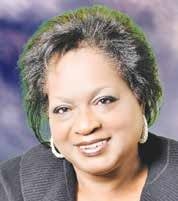 This is another series on "The Big Secret" – domestic violence – in which I penned a five-part installment earlier this year. There are millions of women who experience this potentially fatal abuse on a daily basis. According to statistics from the National Organization of Women, in 2005, 1,181 women were murdered by an intimate partner. That's an average of three women every day. Of all the women killed in the U.S., about one-third died at the hand of an intimate partner. I've received tremendous feedback from readers about my earlier columns. So, I've decided to write about this topic throughout the month of October, designated as Domestic Violence Awareness Month.
If you're in an abusive situation, you might feel hopeless, desperate, confused, and alone. You may not want to tell people about your situation because you're ashamed or embarrassed; but you must speak up and make arrangements to save your life.

As a native of Chicago, Darlene Greene's world changed forever when her youngest sister Ina Mae died as a result of domestic violence. The tragedy prompted her to establish an organization where women in crisis could go to receive help and resources to escape potentially deadly situations. The foundation is located in Dallas, Texas.
Today through her organization, the Ina Mae Greene Foundation – For My Sisters – founded in 2008 –Darlene Greene stands on the frontlines in terms of raising awareness about the atrocities of domestic abuse.
Introduced to domestic violence, at the age of five years old, Darlene Greene shared her story with me.

"Not only were all of the women in my family victims, I would later [learn] that we would become reacquainted through a series of tragic events in my life, and unspeakable pain. We were told that the women in my family were cursed," she said.

The "so-called" curse seemed real to Darlene Greene and her family members for many years. One day she found her way out of that dark lifestyle, as did several other relatives. However, when Greene's sister Ina Mae was murdered, hours after she turned 30, it changed her life forever.
Ina Mae was the baby in Darlene Greene's family. She did what she wanted and got pretty much whatever she desired.
Ina Mae was funny and full of life. When she started dating a Chicago sheriff, Darlene Greene said that the family thought it was nothing to be concerned about. They thought, "He seemed to care about her." They dated for about a year and she had two children with him.
He asked her to move in with him; she thought it was a blessing; after all she now had four children. Darlene Greene had to leave town for business on Ina Mae's 30th birthday. Ina Mae dropped by Darlene Greene's office that day. Her big sister treated her to lunch as a birthday present. Ina Mae said that wasn't the reason that she paid a visit to her sister's office.
Ina Mae wanted to let her sister know that she had decided to leave the sheriff, although they had two children together, Darlene Greene said. He had been abusing her for most of their two year relationship. Oftentimes, her siblings, including Darlene Greene would pick her up after a violent encounter between the two.
That day would be the last time Darlene Greene would see her baby sister alive. That evening, Ina Mae celebrated her birthday with friends. When she returned home later that night, the father of her children was angry because he said she had stayed out too late.
According to reports, the sheriff said he and Ina Mae fought over his gun and it went off. Ina Mae died as a result of a gunshot to the head.
To this day, Darlene Greene continues to wonder how a trained law enforcement officer had such a difficult time disarming her sister who stood at 5-foot-2 inches tall.
To contact Lyndia Grant, visit www.lyndiagrant.com, email comments to lyndiagrant@gmail.com, or call 202-518-3192.