Southeast Resident Brings Film Festival to Georgetown
Filmmaker Anthony Greene Showcases Newcomers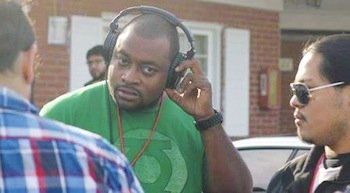 "This year, the festival is tighter. We condensed the amount of screening blocks and had to make hard choices on what films we offered," Greene said.
"This provided a challenge for programming because there were films that were good that had to be rejected. We had to offer only the best that covered the gamut of genres we offer to our filmgoers. There were really good films that we had to pass on to present the best. We also wanted to revamp our presentation of experimental films, which aren't heavy cinematic draws but have a fan base comprised of serious art/film aficionados that can't be ignored," he said.
"Partnering with Georgetown's MOCA DC Art Gallery for the Experimental Film Showcase represents an attempt at pushing forward with embracing the experimental film movement and continuing to offer diversity in our programming."
Greene began his career in film with the documentary, "After the Storm," in 2007, which afforded him the opportunity to direct the 2010 Pride in the Arts festival award-winning documentary, "Woman in a Man's Suit."
He has written and produced eight short films, and worked with a number of talented area filmmakers.
Greene's latest project, "The Henchman's War," was shot in Southeast and has received critical acclaim. The crime drama, which features such local actors as James J. Johnson, Andrea R. Baker, and Tameika Chavis, unfolds with a deadly mistake that sets an introspective henchman on a violent crusade against a mid-level crime boss who has demons of his own that he's battling.
"During the time that I wrote the story, I was heavily influenced by older movies, like Sergio Leone's film, 'Once Upon a Time in the West,' and really just liking that whole minimalist approach," Greene said. "I wanted to make a movie that was kind of melancholy and noir-ish in that sense. And 'The Henchman's War' kind of stemmed from that."
Tickets for the festival are $50 for a weekend pass and $75 for a weeklong pass. For tickets, schedules or more information, visit www.reelindependentfilm.com.