Wizards Hit Camp with Great Expectations
Owner Leonsis: It's Time to Deliver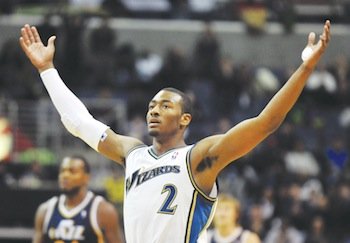 The Washington Wizards haven't made the playoffs in five years, compiling a laughable 117-277 win-loss record over that period.
While many of their competitors made big and bold moves during the summer, the Wizards mostly stood pat, re-signing young superstar John Wall to an $80 million contract, drafting Georgetown standout Otto Porter Jr., and keeping veteran stalwarts like Trevor Arviza, Nene and Omeka Okafor.
Yet, the team president Ernie Grunfeld and owner Ted Leonsis are among those expecting great things from the Wizards, who play their home games at Verizon Center in Northwest and will entertain the Chicago Bulls in a preseason match on Saturday, Oct. 12 in Rio De Janeiro.
"I'm tired of losing," said Leonsis, 56, who also owns the NHL's Washington Capitals, the WNBA's Washington Mystics, and sits on numerous financial and business boards, including American Express.
Leonsis' portfolio also lists him as a Peabody and Emmy-Award winning producer and the celebrated author of the book, "The Business of Happiness."
"We have retained a lot of our players, we've added players and we've spent a lot of money and I expect us to be a playoff-caliber team," Leonsis said.
A lot of the team's expectations and ultimate success or failure lies on the shoulders of Wall, their 23-year-old star point guard, who said he's fully recovered from injuries that interrupted a huge portion of his season last year, as the team finished 29-53 and in third place in the Southeast Division.
However, when Wall returned from his injuries, the Wizards enjoyed a 24-25 record and played much more inspired basketball. In games that Wall played in with Nene, the team amassed a respectable 22-19 record.
"The main thing to do is keep the core of the team strong, because we kind of figured out what we need to do to play together," said Wall, who attended the University of Kentucky and played on the college level for one year before turning professional in 2010.
"We have great camaraderie and we know what it takes to win. The main thing for us is to just stay healthy and get off to a fast start," he said.
When healthy, the Wizards' starting lineup of Wall, Bradley Beal, Martell Webster, Nene and Okafor stands as imposing, if not excellent, said John Schuhmann, who covers basketball for NBA.com.
"They outscored their opponents by 24 points per 100 possessions in 142 minutes together," Schuhmann said of the Wizards' starting five.
"It's fair to say that they would have been a playoff team if Wall was healthy from the start of the season. They had the Eastern Conference's fifth best point differential from the time Wall returned to action."
Grunfeld, who took over as team president in 2003, said he sees light at the end of what has been a long and dark tunnel for the Wizards since they last made the playoffs in 2007. "I'm confident in this team and I'm confident in John Wall, which is why we signed him to this contract," Grunfeld said.