Wizards Hit Camp with Great Expectations
Owner Leonsis: It's Time to Deliver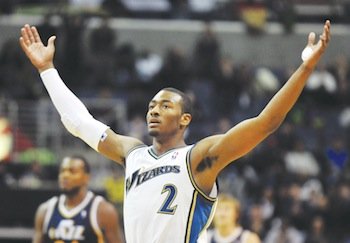 Following seven preseason games that stretch from Tuesday, Oct. 8 to Wednesday, Oct. 23, the Wizards open the regular season on Wednesday, Oct. 30 in Detroit against the Pistons. The team hosts the Philadelphia 76ers in the season's home opener on Nov. 1.
Many experts expect the Wizards will be contenders.
"Wall's health is as important as anything, but he doesn't have to completely carry this team by himself," said Yannis Koutroupis, who covers the sport for Hoopsworld.com.
"Brad Beal is coming off a very solid rookie campaign and Otto Porter has the well-rounded skills to help them out in a variety of ways. They also have good experience on the interior and a deeper roster than last year," said Koutroupis, who picked the team to finish second in its division behind the defending champion, Miami Heat. He said he also expects them to be good enough to make the playoffs.
From the sounds coming out of the front office, particularly from Leonsis, who signs the paychecks, it appears that the Wizards had better live up to the expectations.
"This is an organization on the rise, but there are still a lot of expectations to be met," Leonsis said. "I think we continue to take steps forward, but until we qualify for the playoffs and go deep into the playoffs and bring in the next generation of named free agents, it's all talk. That's where we are right now. It's time to deliver."