Obama, Boehner Talk, But No Deal Reached as Shutdown Continues
WI Web Staff | 10/11/2013, 3:45 p.m.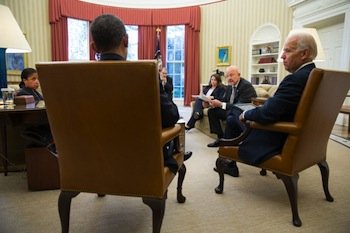 President Obama spoke Friday with House Speaker John Boehner but has not yet accepted a House Republican proposal to reopen the government and raise the debt ceiling.
A Boehner spokesman confirmed that the two had spoken by phone and agreed to keep talking.
Republicans are reportedly proposing a six-week extension of government borrowing and to reopen government funding. Before Friday, the GOP had only offered to extend the deadline for raising the debt ceiling — an offer flatly refused by Obama, who has demanded both the government be reopened and the debt ceiling raised before negotiations begin.
White House spokesman Jay Carney said Friday that the talks have been "constructive," but Obama has several concerns with the proposal for a short-term extension of the debt limit.
Meanwhile, the government shutdown, which began Oct. 1, continues to drag on, with more services throughout the nation becoming casualties of rapidly dwindling funds.