Thousands Get a 'Taste of D.C.'
Kelsey Nelson | 10/13/2013, 11 p.m.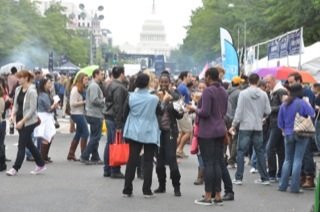 Picturesque views along five blocks of Pennsylvania Avenue in Northwest recently served as the backdrop for the 2013 "Taste of D.C." festival, where thousands of people gathered for samplings of a wide array of food and wine.
Arsha Jones, co-owner of the online company, Capital City Mumbo Sauce, which serves up the flavorful sauce drizzled on chicken wings and other food delights, said the festival was the perfect opportunity to promote the business. During the Oct. 12-13 festival, she and her husband also sold large bottles of the sauce which has become part of the District's subculture.
"Mumbo sauce is one of those flavors you can only get in the Washington metropolitan area," said Jones, who grew up eating mumbo sauce with chicken in the Petworth neighborhood of the city. "We're trying to take it [to every kitchen] nationwide, and let them know there's no other sauce like this online or in the stores anywhere," said the Annapolis, Md., resident.
The more than 40,000 festival goers participated in a variety of activities that included a wine walk, a family zone filled with children's games and a culinary stage that featured the third annual Ben's Chili Bowl's World Chili Eating Championship. In addition, the first ever burger-eating competition, sponsored by the Virginia-based Burger Joint, was held.
"We [were sightseeing and] decided to come and see what the party was [all about]," said Jenna Haacke, 27, from Billings, Mont., who was accompanied by her brother. "The best thing I had was the plantains."
Taylor Pinckney, a student at the University of Maryland at College Park, devoured juicy burger sliders, smothered in cheese, onions, ketchup and mustard that oozed from the sides of the bread from the Burger Joint. Pinckney, 21, said she relished the opportunity to step outside of her comfort zone and try different foods.
"It's something different away from the D.C. and College Park nightlife and club scene. It gives me a chance to be more cultured," said Pinckney of Odenton, Md.
A ticket to the event provided admission to 60 restaurants, access to more than 50 beer and wine tastings and live entertainment.
The arts and culture festival which began in 2010, hosts about 70 restaurants that offer at least four items from their delectable menus at a cost between one and $10.
Key sponsors this year included Jeep, Stella Artois Beer, PNC Bank, Morning Star Farms, and Ben's Chili Bowl.
Proceeds from the festival are donated to the nonprofit Habitat for Humanity, which focuses on eliminating substandard housing in the nation's capital.
Mike Ligons, co-owner of More Than Coffee, located in Pasadena, Md., served hot and cold drinks at the festival.
"I could think of no better place to showcase my product, have a good time and meet great people," said Ligons, who lives in Upper Marlboro, Md.