Government Shutdown Ensnares D.C.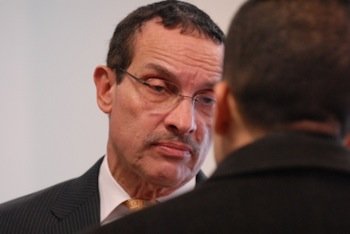 "I've been working with Rep. Issa for quite some time on this issue," he said. "The things he's said are no different. One can question the motivation but the action is what's important."
Democrats have refused to pass piecemeal legislation and continue to push for a full continuing resolution to reopen the federal government.
Gray, 71, said the city government will likely spend between $200 million and $300 million of "rainy day" funds to pay District employees. He was forced to exercise this option after declaring all city workers "essential" employees after a cadre of right-wing House Republicans led by Texas Sen. Ted Cruz engineered the government shutdown three weeks ago. As the crisis lingers, the District is beginning to delay certain payments in an effort to stretch dwindling reserves.
In the District, the national monuments, Smithsonian museums, Rock Creek Park and the National Zoo remain closed, more than 800,000 federal employees are sitting home, an additional 1.3 million federal employees are affected, many working without pay and there appears to be no end in sight for this stalemate.
Statistics indicate that almost 13 percent of all employees in the Washington metropolitan area work for the federal government, versus a little more than two percent nationally. Federal contractors, local governments and local businesses are being adversely affected by the loss of money caused by the shutdown.
Gray said his administration has managed to continue normal government operations by drawing on reserve funds, but cautioned that that money won't last forever. He said the longer the shutdown goes, the deeper the damage the Nation's Capital will suffer.
The city spends close to $20 million per day on payroll and city services, he said, and currently there's about $150 million of available cash. That amount will last a little more than another week which has Gray and city officials looking at what other funds they can tap into.
On the horizon, Gray said, several pressing issues that come to mind – among a host of responsibilities – includes making the city payroll for 33,000 D.C. employees and allocating the quarterly payment of between $150 million and $200 million to public charter schools. Also affected are millions of dollars of grant disbursements the District makes on behalf of the Department of Homeland Security to surrounding jurisdictions to fight terrorism. Until the impasse ends, no money will reach first responders and others. The city must also find money to pay Medicaid providers, Metro, pay rent and take care of a range of other obligations. Tax refunds to businesses and individuals, and lottery payouts will be delayed until the federal government resumes normal operations.
Joslyn Williams, president of the Washington Metropolitan Chapter of the AFL-CIO, praised Gray and the city council for their decisive action to classify District employees in a way that, for now, safeguards their salaries and wages.
"At the moment the impact has not been felt, isn't very, very strong on workers because they're using the 'Rainy Day' fund to keep workers on the job," Williams said during a recent interview. "But that could very well change in a couple of weeks. This gives us the ability to do what other states would. It accentuates D.C. rule and shows that we're subject to the economic whims of the federal government."
"The mayor [made the declaration] without the authority of the Office of Management and Budget but I'm sure President Obama understands."
Gray said not defying the Anti-Deficiency Act would have undermined the moral authority of all those who continue to make the case to Congress that the District "deserves to be permanently freed from being forced to ask permission to spend our own money."
"Already, our inability to spend our own funds is directly endangering the health, safety, and welfare of our residents, visitors and businesses," Gray said during his weekly radio address. "And the consequences will only grow more dire if, God forbid, this drags on. No one wins when the government shuts down, and if federal grant money is blocked because of this debacle, it just means yet more taxes levied against our residents and businesses that did not have a say in the decision. This is just another example of how the processes within our federal government adversely impact our community. D.C. residents should not have to put up with being second-class citizens in our own city."