D. Floyd Recalls 30 Years in 'Go-Go'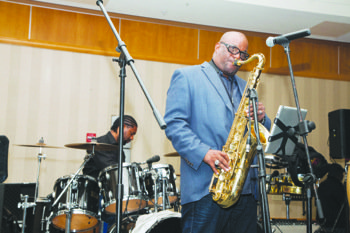 Minutes before go-go band Familiar Faces appeared last month in front of hundreds of fans at the Metro Points Hotel in New Carrollton, Md., vocalist and saxophonist Donnell Floyd, also known as "D. Floyd," listened to some tracks of bandmate and conga player Milton "Go-Go Mickey" Freeman.
He said that listening to Go-Go Mickey's beats inspire him to give it his all during every performance.
"He always comes to play with his hard hat on," said Floyd, 49. "I just make sure that I have some time before every show to zone in on what he is doing and put myself in the mind frame that I need to be."
RELATED: Go-Go Legend D. Floyd to celebrate 30th Anniversary at Howard Theatre
Over the course of his 30-year career, D. Floyd has performed with some of the go-go industry's most prolific acts in countless venues in the D.C. metropolitan area, across the country and around the world.
"I always have faith that if you play good music and you cater to a good crowd, there's always a venue for you somewhere," said the former Rare Essence saxophonist. "It's all about making good lyrics and creating that formula."
Floyd fell in love with that formula in 1980 during his freshman year at The Duke Ellington School of the Arts in Northwest, when two classmates asked him to join their up-and-coming go-go group, the Chance Band.
"To be honest, I was a classical geek at Duke Ellington and just started to dabble into jazz a little bit," said Floyd. "I hadn't heard much go-go but [the trips to] Anacostia were the [perfect opportunity] to learn."
In 1982, Floyd lobbied for a spot with Rare Essence when saxophonist Rory "DC" Felton left. On the evening of the audition, he played Grover Washington's "Mr. Magic" on his saxophone to the satisfaction of the band.
Throughout the 1980s and '90s, Floyd performed with Rare Essence and penned major hits including "Work the Walls," "Lock It," "Uh Oh (Heads Up)," and "Overnight Scenario."
In 2000, Floyd raised concerns that rapper Jay-Z plagiarized some lyrics from "Overnight Scenario" in his single "Do It Again (Put Ya Hands Up)" from his album "Vol. 3…Life and Times of S.Carter."
When he finally decided to pursue the issue legally, Floyd discovered that Rare Essence had already gone to court, addressing the matter as an issue for the publishing company. As a result, Floyd decided to sever ties with the group.
"I always thought that if something came up, they would have my back," said Floyd. "It was exactly the same song [I had written]."
In 2001, Floyd began work on a solo project, assembling a team of 12 musicians that included Larry "Stomp Dogg" Atwater of the Northeast Groovers. After the first practice, interest in forming a band developed, and 911 was formed.
After a rough start that included a change in its line-up and the controversy surrounding its name, the band became known as Familiar Faces.
"We were the 911 band long before [the terror attacks], but when we changed our name, we changed our style, [opting for] a more grown and sexy sound so that we could shake the negativity," said Floyd.