D. Floyd Recalls 30 Years in 'Go-Go'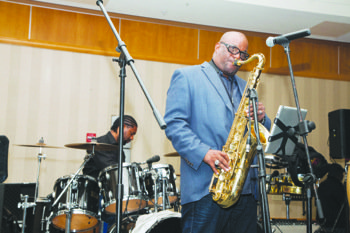 When Rare Essence's founding member Anthony "Little Benny" Harley died during the summer of 2011, Floyd honored his memory and performed alongside go-go legend Chuck Brown before 10,000 people at the Carter Barron Amphitheatre in Northwest. Shortly after, he reunited with Rare Essence and performed with them for several months before returning to Familiar Faces in 2012.
Today, with Floyd at the helm, Familiar Faces continues to perform in venues across the District.
While the band has kept large crowds dancing and singing nonstop in popular venues around the District that include Trade Winds in Temple Hills, Md., and J's Sports Café in Laurel, Md., their shows which often start with slow R&B covers, have had a way of transitioning to a harder funk sound by the end of the night – including their mix of old Rare Essence cuts as well as new songs.
"The crux of what we do as a band is on the stage," said Floyd. "There's something special about playing in front of a live audience and making a particular sound that [gets the crowd's attention]. Once you see that reaction, you keep on doing it."
Also, while Floyd has kept elements of the original go-go sound, his band is moving away from covers and penning original lyrics instead.
Floyd said this is part of his effort to take the sound beyond the Beltway.
"I still believe that there is someone in the next generation who can take the go-go sound that I have come to love to new heights for the rest of the world to enjoy," he said.
Donnell "D. Floyd" Floyd will celebrate his 30 years in the go-go industry at the Howard Theatre on Saturday, Oct. 19, from 10:30 p.m. to 2 a.m., with guest appearances from Sugar Bear, Big G, Steve Roy, and many others.
For more information, visit http://familiarfaces.org/ai1ec_event/donnell-floyd-celebrating-30-years-howard-theatre-sat-oct-19/.