D.C. Political Roundup: Serrano to Continue Fight for D.C. Statehood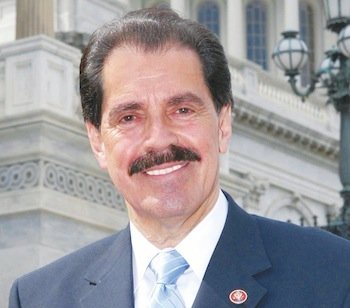 One of the leading Democrats in the U.S. Congress made it clear recently that he wants the District of Columbia to be the 51st state of the union and he's determined to make it happen.
U.S. Rep. Jose Serrano (D-N.Y.) received a "Champion of Democracy" award during DC Vote's annual gala on Oct. 9 at the Mayflower Hotel in Northwest. Serrano, in a 20-minute address to 75 people in the audience, voiced his displeasure with the District's status as a non-state.
"I am a statehooder for D.C. because I believe that it should be the 51st state," said Serrano, 69. "I cannot fight for Puerto Rican equality and not fight for D.C.'s."
Serrano is the ranking Democrat on the House Appropriation's Subcommittee on Financial Services and General Services, which has oversight over the District. When he served as the chairman of the subcommittee several years ago, he said in no uncertain terms that he would allow the District to manage its own affairs. He made it crystal clear that he had no desire to meddle in the District's affairs.
"I let it be known that I had no desire to be the mayor, D.C. Council chair or a D.C. Council member," Serrano recalled saying. "I got a lot of attention for saying that and I stand by what I say."
Serrano's district in New York has the largest number of Puerto Ricans outside of the commonwealth. The congressman has worked since his election to the House in 1990 to allow Puerto Ricans to determine if they wanted to become a state, an independent nation or to remain a commonwealth.
Serrano received honors from DC Vote along with Mary Ann Stein, president of the Moriah Fund, military veterans who have lobbied the Congress on behalf of D.C. statehood and the budget autonomy legal team that consist of attorney Jon Bouker, Walter Smith of DC Appleseed and Ilir Zherka, a former DC Vote executive director who now leads the National Conference on Citizenship.
Serrano said that he's unwavering in his fight for District statehood.
"I appreciate the fact that I got an award from DC Vote but I have not earned it yet and I will continue to fight," he said. "I will be there for D.C. as a ranking member and as chairman. I walk with the people of Washington, D.C. I am you and you are me."
Ward 6 Democrats Elect New Officers
Jeffrey Richardson, a seasoned political activist and the executive director of Serve DC, has been selected as the new president of the Ward 6 Democrats.
Richardson, 35, defeated DeLeon Ware for the organization's top spot on Oct. 1 at the Southeastern Public Library in Southeast. Richardson, who has served as the vice chair of the D.C. Democratic State Committee, the president of the Gertrude Stein Democratic Club and as a delegate to the Democratic National Conventions in 2008 and 2012, said he's ready to lead.
"The Ward 6 Democrats has a great history when it comes to educating the community, elected officials and civic leaders," he said. "I want to keep up that tradition and take it to the next level."
Betty Pierce will serve as the club's new first vice president while Kim Morton and Chuck Burger won second and third vice president, respectively. Mike Farrell takes over as the new treasurer while Meredith Fascett becomes the recording secretary and Naomi Shelton will serve as corresponding secretary.
Scott to Appear at GOP Dinner
The only African American in the U.S. Senate will attend the District GOP's gala dinner later this month.
U.S. Sen. Tim Scott (R-S.C.) has agreed to serve as the featured guest during the District of Columbia Republican Party's Lincoln-Douglass Dinner, which will be held on Tuesday, Oct. 22 at the Hyatt Regency Washington in Northwest. The keynote speaker for the dinner is U.S. Sen. Rand Paul (D-Ky.), a prospective 2016 presidential candidate.
D.C. Republican Party Executive Director Robert Turner II said that Scott has also agreed to speak at the gala.