D.C. Residents Tackle Mental Health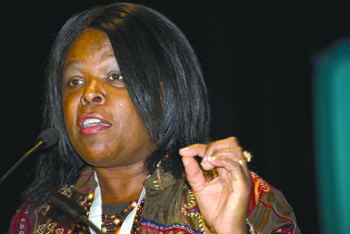 Usually, the issue of mental health rockets to the forefront of people's attention and consciousness when a mass shooting occurs, or as happened recently, when a 34-year-old woman suffering from severe post-partum depression and psychosis was shot and killed when she tried to ram a White House barrier.
Yet, in the District and elsewhere, men, women and children dealing with mental health problems walk among us every day and we're often none the wiser.
A range of mental health issues was the subject for discussion on Saturday, Oct. 11, when more than 400 District residents met to discuss mental health, its implications and community solutions. Mayor Vincent C. Gray (D) hosted the community forum, part of a national conversation on mental health.
"One of the many objectives today is to develop a framework," Gray said during opening remarks. "We must focus on intervention – early intervention – and prevention rather than waiting until treatment is needed."
"Mental health services will be an important part of moving the city forward. It will help families and children. We're a growing city of 632,000 residents, larger than Vermont and Wyoming. With growth comes complexity and challenges."
Carolyn Lukensmeyer, who serves as the executive director of the National Institute for Civil Discourse at the University of Arizona, is coordinating community conversations in cities around the country.
"After Newtown, President Barack Obama called for a national conversation on mental health," she said. "They called me to develop a steering committee which put community members in place because they know the community. The challenge is for the whole community."
"Mental health [issues] have been with us for hundreds of years and hasn't changed enough. With HIV, we used to say it would stop if gay men stopped going to bath houses. But with awareness and understanding, those attitudes changed. The media, popular culture, schools and churches have to help us."
It is estimated that 45 million adults have some type of mental illness and about 20 percent of American adults will have a mental problem this year. Mental illnesses are the No. 1 cause of disability in North America but only 40 percent of people coping with mental health issues receive treatment. Mental health problems can be triggered by trauma; childhood abuse or neglect; severe conflicts with parents; witnessing violence; a death in the family or poverty. Individuals may also be prone to mental health problems if there is a family history of such issues or because of biological factors or chemical imbalances in the brain.
Mental problems routinely go undiagnosed, unrecognized and untreated, despite the fact that by the accounting of the National Alliance for Mental Illness (NAMI), at least 10,000 D.C. residents suffer from mental health issues and one in 10 children struggle to cope with mental health problems. The issue is much more common than people realize and affects people of color in far greater numbers than any other group.
According to outgoing Surgeon General Dr. Regina Benjamin, the suicide rate among African American children between the ages of 10 to 14 increased 233 percent from 1980 to 1995. And a 2011 report from the Centers for Disease Control and Prevention, shows that suicide is the third highest cause of death in 15- to 24-year-old African-American males behind homicide and accidents.Yet, the general public's misunderstanding and lack of awareness persists, notably in the black community, because of the stigma associated with mental illness.