D.C. Residents Tackle Mental Health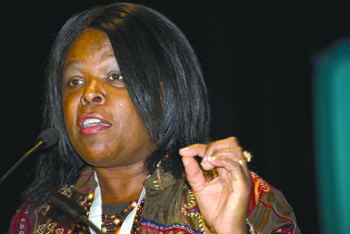 Gray, 70, said, it's the first time the city has approached mental health in the manner it did at the forum. Members of the audience consisted of those touched directly by mental illness, others who provide services to the mentally ill and advocates, he said.
More than 30,000 District residents have used the city's public mental health services, he said while praising Obama for bringing attention to the struggles of the mentally ill in his State of the Union address earlier this year.
Gray noted that the overarching goal of the discussions is to develop strategies to reduce the stigma associated with, and increase the openness and embrace of mental health care.
Lukenmeyer said she would work with city officials to create an action plan from Saturday's discussions, adding that a coalition of organizations have committed to implementing the plan over the next two years.
Adrienne Lightfoot said she enjoyed the meeting and found it fruitful.
"I am a consumer of mental health services and an employee of the Department of Behavioral Health," Lightfoot, 62, said. "I wanted to participate in this to educate myself about what is going on in the mental health field and to be able to help young people."
Experts say mental illness touches all corners of the community and many families all too often push it in a corner, leaving family and friends who care for those coping with mental illness to deal with the issue in silence.
As a result of the forum, speakers said, the community can break that silence.
Local pediatrician Dr. Joseph Wright said during an interview and later when he introduced a young poet to the stage, he was elated so many young people were a part of the forum.
"I'm really very delighted to see so many young people here," he said. "Fifty percent of mental health symptoms and conditions start before the age of 14. Typically, there's an eight-year gap between when the symptoms are recognized to treatment. There's a lot of time for it to spiral and have an impact on a child's life."
Wright, senior vice president of the Child Health Advocacy Institute at the Children's National Medical Center, said the facts about mental health are not well understood and welcomed the forum as a way to educate and inform the general public.
Ward 7 Council member Yvette Alexander agreed.
"Our children's mental, physical and social well-being is a priority," she said. "The message to them is that we have to release the stigma and let children know we love them and hear them and raise them in comfortable environments. We're working with a number of mental-health service providers so that it is as routine as their physical checkups."
WI Staff Writer James Wright contributed to this story.