Demonstrators Demand Campaign Finance Reform
Margaret Summers | 10/16/2013, 3 p.m.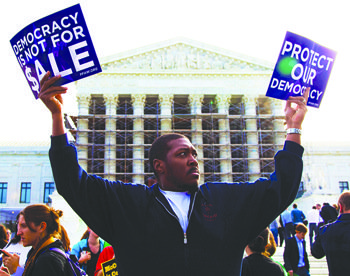 Approximately 150 demonstrators, representing organizations such as government and District-based national public policy watchdog groups Public Citizen and People For the American Way, and civil rights groups such as the North Carolina NAACP, recently gathered outside of the U.S. Supreme Court, demanding that the court reject an effort to remove limits on donations to federal candidates for office, to political parties, and to political action committees (PACs).
The court heard oral arguments on Oct. 8 in the case of McCutcheon v. Federal Election Commission. In the case, Alabama Republican Shaun McCutcheon argues that legal limits on campaign contributions to federal candidates block his constitutionally protected freedom of speech. But the demonstrators said if the justices rule in support of McCutcheon, the U.S. political system would be further controlled by corporations and wealthy individuals, whose unlimited amounts of money could, in effect, "buy" parties, candidates, and have undue influence in election outcomes.
"Our democracy would suffer a serious blow," said Craig L. Rice, 31, vice president of the Montgomery County, Md., County Council. "As a young minority elected official, this is very troubling. Young minority candidates for elected office throughout this country are routinely out- spent, especially in state and local elections. Money should not determine which candidates are elected to office, but the content of candidates' characters."
Congressman John Sarbanes (D-Md.), 51, said his concern about the corruption of money in elections inspired his Grassroots Democracy Act. If enacted, it would, among other things, provide Americans with a $50 refundable tax credit to contribute to their preferred candidates for Congressional office, and make matching public funds available to candidates who receive public donations, as opposed to PAC contributions. Because of the dominance of money in politics, said Sarbanes, "there's a lot of cynicism out there. It's deep and it's broad. People need to feel their voice is being heard."
Brendien Mitchell, 19, a Howard University graduate student and a fellow with People For the American Way Foundation's program Young People For, told the demonstrators, "We have witnessed attacks on voting rights because there is a concerted effort to mute the voices of youth and people of color. What about the freedom of young Americans who cannot donate grandiose sums of money to political candidates?"
Kica Matos, director of immigrant rights and racial justice for the Center for Community Change, a District-based national community-building organization, said eliminating campaign spending restrictions could result in millions of dollars funding elections of U.S. senators and representatives who oppose immigration reform. "Our nation is in crisis," she said. "Immigrants already live in fear of being deported. Giving (political) power to the richest among us is morally reprehensible."
The Reverend Dr. William Barber, II, 50, president of the North Carolina NAACP, described the impact of big money-dominated politics on his state. "We have seen firsthand what happens when laws are undermined which guard against voter suppression and undo regulation on the ability of corporations or individuals to spend unchecked amounts of money to influence, infiltrate and literally infect the democratic process," he said.