Demonstrators Demand Campaign Finance Reform
Margaret Summers | 10/16/2013, 3 p.m.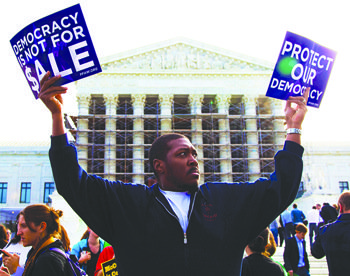 "They (North Carolina's majority Republican state legislators) have been on a terrorizing pace to deny Medicaid to a half million people that was made possible by Obamacare, deny unemployment compensation, raise taxes on poor working families by taking away the earned income tax credit, roll back racial justice in the courts, pass policies that kick the poor while they are down, and undermine public education by driving education spending to last in the nation," said Barber.
"The two anti-democratic methods they desire most, use most, and want more of, is the ability to rig elections through voter suppression, and have the unchecked ability to spend money in electoral politics to move power from the people, and give power to the pocketbook."
Barber is the architect of the weekly "Moral Monday" demonstrations in Raleigh, N.C., which began this spring outside the state's house and Senate chambers to protest these legislative changes. The protestors are a diverse coalition of political, racial and faith-based groups. "I was born the week of the 1963 March on Washington," said Barber. "I never thought I would be fighting the same fights that my father and grandfather fought."
Regarding the McCutcheon case, Barber said "My prayer is that the U.S. Supreme Court justices remember the saying on their building: 'Equal Justice Under Law.' If not, we have to keep on fighting. Our democracy is not for sale. As we say in the North Carolina 'Moral Monday' demonstrations, 'Forward together! Not one step back!'"
The Supreme Court is expected to rule on the case next year.