Fort Washington Residents Aim High with Proposed Casino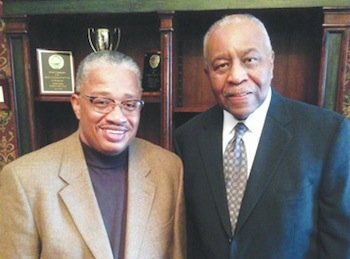 Thomas Taylor and Ronnie Elam aren't your average casino developers.
For starters, they are hoping to build a casino in their backyards as minority owners of the proposed $800 million Parx Casino Hotel and Spa in Fort Washington.
Together, they are among multiple developers hoping to build a casino in Prince George's County but are the only African-American owners to be a part of the bidding process. Taylor and Elam have lived in Fort Washington for more than 20 years and said their hope is to create a sprawling upscale facility that would spur economic development in their community.
"You have all these beautiful homes [in Fort Washington] but when you step out the door, you have no place to go," Taylor said. "It has nothing to do with race or anything but the position we're in to help our community."
Taylor retired from a career in the federal government in the mid-1990s that was around the time he met Elam, a fire inspector with D.C. Fire/EMS, while on a retreat to Las Vegas for business. Both men were originally from the South and had served in the military — the two instantly clicked. They found themselves trading tips on business and entrepreneurship. They soon decided to buy Rosecroft Raceway in Fort Washington when the facility was considering bids for sale in the '90s.
Together, they were introduced to Tony Ricci, the eventual CEO of Bensalem, Pa.-based Greenwood Racing Inc., who backed them in their bid for Rosecroft.
"We had a dream, we talked about it a lot," said Taylor.
After three attempts to purchase the track, they said they decided to wait until the timing was right.
"It's hard to get to a point and not try to advance ourselves," said Elam. "No doesn't stop me – 'no' is not the end."
The pair has set their sights on loftier goals as the minority owners of Parx Casino, which is owned by Greenwood Racing through its Maryland Casino, LLC. The casino would sit along 21 acres of land near the intersection of Route 210 and Old Fort Road.
Parx is entering a crowded race for a casino in Prince George's County. Three bidders are vying for a casino license. In addition to Parx, MGM Resorts International is proposing an $800 million resort and casino at National Harbor. Penn National Gaming, owner of Rosecroft Raceway, is proposing the $700 million Hollywood Casino Resort.
The Maryland Video Lottery Facility Location Commission will begin considering proposals for the location of the casino on Monday, Oct. 21 and is expected to award a license to a developer by the end of the year.
"[A casino] is going in our community and I want a say in it," Elam said. "We're going to give residents [equity] in their homes."
Having owners who live in the community being part of the project creates a stronger community partnership, according to officials at Greenwood Racing.
"They have a passion for the community," Ricci said. "I know casinos, but they know what the community needs."