Gregory Maqoma's 'Exit/Exist' at Atlas Performing Arts Center
Recounts South African History through Dance and Song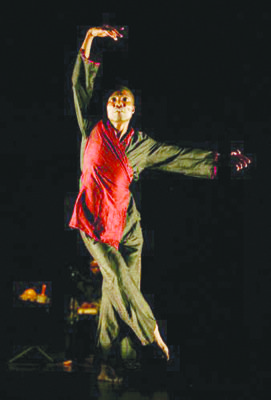 How many ways can a history be told? By the usual methods, history can come across as dry and routine, but this weekend, South African dancer/choreographer Gregory Maqoma will tell his own personal history through movement and music.
"Exit/Exist," a collaborative work by Maqoma and his dance troupe, Vuyani Dance Theatre, will break new ground at the Atlas Performing Arts Center from Oct. 18-20.
The innovative Soweto-born artist said, "Exit/Exist" recounts the history of one of Maqoma's ancestors, a Xhosa chief whose exit from the world paved the way for Maqoma's own existence.
"Chief Maqoma believed that true liberation of a black man was through ownership of land and cattle," Gregory Maqoma explained. "He fought the British in the 19th-century frontier wars to protect the Xhosa heritage and land. Even in his attempt to make peace with the British, he was pushed and banished from his ancestral land and imprisoned twice in Robben Island, where he ultimately died under mysterious circumstances."
Interpreting the true life story through dance and song by South African singer/songwriter Simphiwe Dana, performed by the singing ensemble Complete and world-fusion guitarist Giuliano Modarelli, "Exit/Exist" has been described by critics as "raw and beautiful movement and sound."
But Maqoma is not just telling his own history for the sake of vanity. In his take, he's also urging others to look at their own personal histories. "We are all essential descendants of our histories, culturally and politically," he said. "Through this work we find something deeper and profound."
"Exit is a way of reclaiming my own roots and connections to my ancestral lineage. It is also about reaffirming my identity and to exist through (Chief) Maqoma's exit," Maqoma said, after making the arduous journey from South Africa to arrive in Washington just days before the production.
"As a descendant, I exist through his exit even when his life was forcibly cut short to eradicate all forms of cultural existence. Through him we are able to exist again and reclaim what he always fought for, through liberation by reclaiming ancestral land for a better quality of life. We also have to remember that the currency and the pride of any family was through land and cattle."
Directed by James Ngobo, "Exit/Exist" is the first performance in the "Dance of the Atlas" series, which will feature multicultural performances through June 2014.
"As a performing arts center, we present a full range of artists across disciplines with a strong focus on the contemporary," Artistic Director, Sam Sweet said. "Presenting the art that is happening now provides a forum (and an audience) for today's artists, and reveals new forms, changing cultures, and sometimes radical ideas to our audiences."
Gregory Maqoma's "Exit/Exist" also holds a message for the Washington audience who will experience this collage of cultural expression, which, according to Johannesburg's Star newspaper, is an "intelligently provocative exploration of kinetic African identity where the rural impinges on the urban, where the hallowed intersects with the popular."
According to the multi-talented, internationally recognized dancer, choreographer, director and scriptwriter, who will introduce himself through "Exit/Exist," the audience will "firstly experience the artist I am, where I come from and how I am able fuse different cultures and aesthetics and experiences without worrying about conforming to stereotypical expectations that might be influenced by where we come from and the subject matter."
His aim in presenting "Exit/Exist," is "to experience how we have taken a history documentation and created art with it and not a history lecture. To experience our appreciation of the past while we forge the future and living in the present," Maqoma explained. "And, finally to be immersed with a work that is simply dealing with an important issue of existing in this universe by acknowledging where we come from and thinking of the future."
"Exit/Exist" will be performed on Friday, Oct. 18 and Saturday, Oct. 19 at 8:00 p.m. and Sunday, Oct. 20 at 3:00 p.m. Maqoma and his Vuyani Dance Theatre, will also hold a master class and lecture. All performances will be held at the Atlas Performing Arts Center, 1333 H Street NE, Washington, D.C. Call (202) 399-7993 for tickets or visit www.atlasarts.org.