Initiative to Attract Minorities to Energy Careers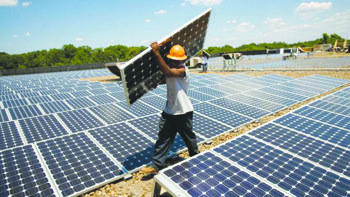 When it comes to careers in science, engineering and technology, minorities have traditionally been underrepresented.
But a utility company that serves customers in New York, Massachusetts and Rhode Island is working in conjunction with the U.S. Department of Energy to boost interest so that more African Americans have access to those kinds of careers.
"There's a big need there, especially as we improve the energy field where there are some big opportunities," said Rudy Wynter, 49, president of the Federal Energy Regulation Commission's Related Businesses at National Grid, which is based in Rhode Island.
In announcing the Sept. 24 launch of the "Minorities in Energy" initiative during a gathering at the U. S. Department of Energy in Northwest, Wynter considered how to bring resources together to help get more minorities involved in careers in energy.
"We've really just started dialogue around what's needed, what we're doing today and what we need to do going forward in attracting minorities to all of these fields," said Wynter, who's worked in the utilities sector for 25 years. "The lack of minorities in STEM is a big issue across the country. It's hard to say what's the driver – it could be the school system, it could be a lot of things – but we've started to look at what we can do to help fix it."
Wynter is a member of the nonprofit, District-based American Association of Blacks in Energy, whose 1,700 members come from all sectors of the energy industry. He explained that while the "Minorities in Energy" project endeavors to find ways to get more minorities interested and involved in the field of energy, it's also a push for better Science, Technology, Engineering and Math (STEM) programs in public schools across the country.
Listed among some of the "hands-on and rewarding" career offerings in the energy sector are chemical engineers, highly-skilled line workers, supervisors and control room personnel.

According to an August 2013 report from Footbridge Energy Services, a leading provider of energy technology around the world, based in Massachusetts, women and other minorities are highly underrepresented. The report further states that with women and minorities comprising about 70 percent of college students in the nation, they only account for 45 percent of professionals with degrees in STEM disciplines which are the core degrees currently driving the solar industry – which alone shows job growth six times the size of the overall job market.
Howard University President Sidney Ribeau counted among several distinguished leaders who along with Wynter, served as a panelist for the roundtable discussion that followed the initiative's launch.
Ribeau said that STEM studies have been key components of Howard's Academic Renewal plan.
"We know it is vital that the pool of students interested in STEM needs to be cultivated and helped to flourish right now," Ribeau wrote in his official blog. "By 2018, the Bureau of Labor Statistics projects that there may be more than 5 million unfilled jobs in the U.S., with [many of them] requiring skills in STEM … As one generation of workers reaches retirement, there is growing concern that this void must be filled with new talent. We know that the answer is to help fill these jobs with talented minorities."
Ken Olden, director of the National Center for Environmental Assessment at the Environmental Protection Agency in Northwest, said that given the rapid advancements in science and technology, it's imperative that minorities not only work in STEM fields, but also have a strong presence in boardrooms.
"Science and technology are the backbone of the economy, and everything revolves around innovation in those areas," said Olden, 76.
"If African Americans want to be players in those fields, we need to be at the table as decision makers — it's just that critical."