PBS Series Sparks 'Real Conversation about Race'
Margaret Summers | 10/16/2013, 3 p.m.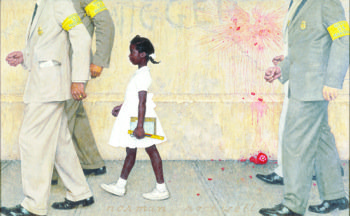 PBS television producer Henry Louis Gates Jr.'s 13th series begins Tuesday, Oct. 22, when the first of his six-hour, six-part "The African-Americans: Many Rivers to Cross" airs on PBS stations. Excerpts were screened recently at the National Press Club in Northwest, followed by a panel discussion with three series participants.
The series, and its companion book, covers African-American history from 1500 to the re-election of President Obama. Coincidentally, it's airing in the year of the 50th anniversary of the March on Washington, and the 150th anniversary of President Lincoln's Emancipation Proclamation freeing African-American slaves in states which seceded from the Union.
It is the first extensive series of its kind since the nine-part "History of the Negro People" aired on National Educational Television in 1965, and actor-comedian Bill Cosby's one-hour documentary "Black History: Lost, Stolen or Strayed," aired on CBS in 1968.
"I wanted to produce something like this ever since I saw Cosby's documentary when I was a high school senior," said Gates, 63, an Alphonse Fletcher university professor at Harvard University, and director of its W.E.B. Du Bois Institute for African and African-American Research. Gates told the National Press Club audience that Ebony Magazine writer Lerone Bennett's columns on African-American history also piqued his interest.
Henry Hampton, producer of PBS' civil rights history series, "Eyes on the Prize," also inspired Gates, who met Hampton in 1991. Gates said Hampton, who died in 1998, gave him a tour of his Boston, Mass., production company, and taught him documentary production and financing.
Gates and the panelists said they hope Gates' series enlightens viewers, particularly young people. "Most histories begin with the first African slaves brought to Jamestown, Virginia," said Gates. "But the first African to set foot in the Western Hemisphere was a free man named Juan Garrido, a conquistador." Gates said Garrido seized land and its occupants for the Spanish crown. In 1508, Garrido was part of Juan Ponce de León's expedition against Puerto Rico. Ponce de León became famous for discovering and naming Florida.
Journalist Charlayne Hunter-Gault, 71, one of two African-Americans in 1961 to integrate the University of Georgia in Athens, said she sometimes becomes despondent when speaking to young people about African-American and civil rights history. "They don't know that in 1961, when the Freedom Riders rode buses into southern states (to test enforcement of desegregation on interstate buses), many wrote and signed their wills before they left. They were prepared to die." Hunter-Gault said she asks students if they know who Dr. Martin Luther King, Jr. was, and most raise their hands. She asks if they know who Rosa Parks was, and fewer raise their hands. When asking if they know who Ruby Bridges is, they look puzzled. Bridges, featured in Gates' series, was the six-year-old who integrated Frantz Elementary School in New Orleans in 1960.
Another panelist, Congressman John Lewis (D-Ga.), 73, a former president of the Student Nonviolent Coordinating Committee who was beaten as a Freedom Rider, and during the 1965 Selma-to-Montgomery March, said "I think Dr. King would be shocked if he came back and saw that many young people don't know their civil rights history."