Shutdown Over: Congress Passes Bill to Open Government, Raise Debt Ceiling
WI Web Staff | 10/16/2013, 12:30 p.m. | Updated on 10/17/2013, 12:47 a.m.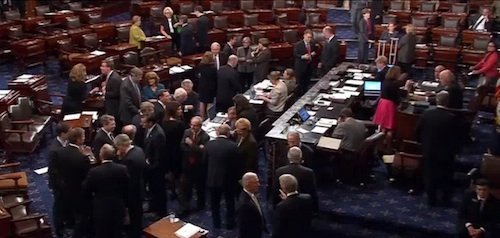 Congress passed a spending bill Wednesday night that will raise the debt limit and end the government shutdown that had hamstrung the nation's economy for more than two weeks.
President Obama signed the bill shortly after midnight Thursday, increasing the nation's debt ceiling and narrowly avoiding the first major debt default in U.S. history.
The Treasury Department had said it would run out of maneuvering room under the $16.7 trillion debt limit on Thursday if a deal was not struck.
The Senate voted 81-18 to approve the bill, and the House followed suit with a 285-144 vote later Wednesday night.
The GOP-controlled House had previously impeded all attempts to end the shutdown in an unsuccessful bid to undercut President Obama's Affordable Care Act, which was passed into law in 2010.
The concession is seen as an almost complete about-face for House Republicans, which for weeks had led a oft-cantankerous, tea party-influenced push to defund Obama's signature health care legislation that went into effect on Oct. 1, the same day the federal government shutdown began.
Senate Majority Leader Harry Reid and Minority Leader Mitch McConnell announced earlier in the day they had struck a deal to reopen the government and lift the debt ceiling.
"This compromise we reached will provide our economy with the stability it desperately needs," Reid said.
The agreement, which was announced just after noon on the Senate floor, will keep the government open through Jan. 15, raise the debt limit through Feb. 7 and require the House and Senate to assemble a group of negotiators to reach a permanent deal on the 2014 budget by Dec. 13.
"This has been a long challenging few weeks for Congress and for the country. It is my hope that today we can put some of those most urgent issues behind us," McConnell said.