Shutdown Weighs on Prince George's Food Pantries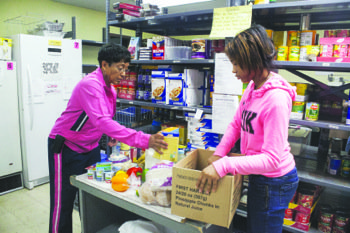 It wasn't long after her husband came home and announced that he had been furloughed from his federal job that Anjela Maxy began to brace herself for an influx of people coming to her Fort Washington food pantry in need of services.
"When you talk with people, [furlough] is the first thing they say," Maxy said of the need at the Fort Foote Baptist Food Pantry where she volunteers as the food manager. "There is a definite increase."
Volunteers at food pantries in southern Prince George's County said that the government shutdown has caused a spike in clients requesting food and other items. The increased need has doubled at some locations and is forcing pantries to raid their reserve inventories to keep up with the demand.
At Fort Foote Baptist Church, Maxy said there had already been a 5 percent increase in clients, some of whom don't usually frequent the pantry like many senior citizens who come on a regular basis.
"People work to get money, to buy food. It's hand in hand," she said. "We have to help each other until this madness comes to an end."
Prince George's County is home to 72,000 federal employees; about 60 percent of the county's workforce is employed by the federal government or D.C. government, according to Rushern L. Baker (D), county executive. Such a large number of residents without pay sends ripples throughout the local economy as consumers curb their spending habits.
The furloughs come at a time when the need at food pantries throughout the Washington, D.C. area has skyrocketed. Since 2006, the Capital Area Food Bank, which provides food to smaller food pantries in the region, has seen a 25 percent increase in the number of residents it serves – roughly 478,000 individuals.
Volunteers said even before the furloughs began, the need at food pantries in Prince George's County had steadily increased. Countywide, 13 percent of all residents, including 11 percent of children, are at risk of hunger, according to a report published by the Capital Area Food Bank. By comparison, the overall risk of hunger in Maryland is 12 percent; in Montgomery County, the risk for residents is 8 percent, according to the report.
The need has been hard felt at food pantries serving large areas in the county.
"We have more clients – more than we expected," said Sylvia Green, manager of the Oxon Hill Area Food Pantry, which services more than 11 communities in southern Prince George's County. "A lot of them have come in because of being furloughed and unemployed."
Green said that since the shutdown on Oct. 1, the pantry has seen 75 new clients, a 50 percent increase. The shutdown has also affected the pantry's donations, which are down partly because donators are now furloughed or unemployed, she said.
"A lot of them live paycheck-to-paycheck, they need food to feed their families," Green said.
In late September, the pantry received $3,000 worth of food from the USDA that was supposed to last three months. Green said the food, which included frozen meats, vegetables, and fruits, was gone by Oct. 5.
Generally, pantries stock up on food headed into the holiday season. Green said her biggest concern is if the pantry will have enough food for Thanksgiving.
"The trend is bad," she said. "It's putting us under a lot of pressure to figure out what we're going to do. We're trying to hold on."
Smaller food pantries that are only open a few times a month are still preparing for an increase in clients.
Lowell Edminster, 75, a volunteer at the Fort Washington Food Pantry said the pantry is only open once a week and is too small to handle spikes but the week of Oct. 5 drew a near record crowd for the pantry.
"Every week we have five to 10 new clients," he said. "I can't say for certain that the government shutdown has affected us."
Still, Edminster said the timing of the shutdown is precarious for the pantry because of the gradual increase in clients over the last few years. The Fort Washington Food Bank, he said, is already operating at capacity.
"We have limitations," he said. "We can't bring in a lot of food."