Walkathon Raises Money for Toddler Victim of Domestic Violence
Alafaka Opuiyo | 10/16/2013, 3 p.m.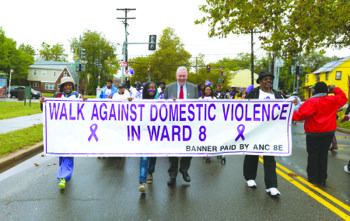 The dreary weather on Saturday, Oct. 12 failed to deter nearly 200 people who donned raincoats and galoshes from participating in the annual Ward Eight Council Against Domestic Violence (WECADV) 3K walkathon.

As is the case in cities across the country, domestic violence in the District continues to be big issue, with WECADV founder Sandra "S.S." Seegars explaining that the walkathon is a result of a domestic violence story that was covered in 2007 by The Washington Informer.
"I started the walkathon because [The Informer's publisher] Denise Rolark Barnes [had interviewed] a family who suffered a domestic violence tragedy, and I thought 'this family needs money,'" Seegars said. "We raised money for that family that year, and we've been doing that ever since."
Half of the proceeds from this year's walkathon were donated to Kodi Brown, the two-year-old girl whose face was grazed by a bullet in December 2012 when her father, Javon Foster, 27, shot and killed her mother, Selina Brown, 20, on a Metro bus in Southeast.
According to court records, Foster had a history of domestic violence against women. He and Brown had a volatile relationship, and he killed himself in New York shortly after the shooting.
Brown's stepfather, Derrick Ferguson, a Metropolitan Police Department (MPD) officer, said that since the death of his step-daughter, the family has faced financial hardships. He said he's grateful for the donations.
"When the cameras were there, everyone said they would help," said Ferguson. "When the camera went away no one was there except the Ward 8 Council, and that really touched me to my heart because right now we're financial strapped."
Other organizations that partnered with WECADV for the early morning, two-mile walk from THEARC to Wheeler Road in Southeast, included the Anacostia Coordinating Council and the Advisory Neighborhood Commission for Ward 8. Bread for the City, a nonprofit organization that provides needy residents with food, clothing and medical care, also participated as a first-time supporter.
With October being recognized nationally as Domestic Violence month, Diane Groomes, assistant MPD chief, said it was vital that MPD show up to support the walkathon.

"Most of our calls of service in this area are domestic violence [oriented]," said Groomes. "About 35 percent are [complaints] about a family disturbance or major violence against an intimate partner."
Published reports state that incidents of domestic violence usually increase around the holidays, and that in 2012, MPD received approximately 30,000 such calls, which were just fewer than in the previous year. In addition, seven of domestic violence deaths that took place in 2012 in the District, occurred during the first half of the year.
Ray Lewis, who has lived in Ward 8 for the past 40 years, said the reason domestic violence may appear to be higher [in Ward 8] is because of "the lack of a strong police presence."
"You can do anything you want in Ward 8 and the police just drive by and don't say anything," Lewis said.
Ward 6 Council member Tommy Wells, working in conjunction with the DC Coalition Against Domestic Violence (DCCADV), is leading an effort to create and finance the District's first 24-hour confidential domestic violence hotline.

Wells said the hotline will be ready in early 2014.
"This hotline is being created so people do not have to go through the police to get help. "[The hotline] will be ready in about six months," Wells said.
Andrea Gleaves, DCCADV training and outreach specialist, said her organization has been a supporter of the walk for years.

"When you look at MPD calls, Ward 8, Ward 7 and Ward 5 have the highest [domestic violence] police response," Gleaves said. "[Because of that], these are areas in which outreach and education are very important to us."