Walters Honored, Lionized at Conference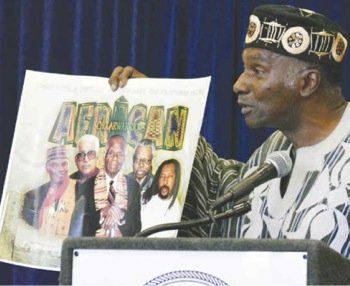 During a public forum and roundtable discussion at Howard's Cramton Auditorium on Thursday evening, Joe Madison, Dr. Michael  Eric Dyson, April Ryan, and George Curry reminisced about Walters, his impact on their lives, his principled political activism, his legacy and the large shadow he cast.
Stephanie Brown Jones, CEO of Vestige Strategies, LLC., moderated the Oct. 10 interactive conversation and asked a series of questions related to political and social issues that stimulated a vigorous conversation.
"Ron never got pissed off," said Madison, a commentator, talk show and political activist in answer to a question. "He was too intelligent for that. What he showed was his intellect and the ability to explain complex political situations so that average people could understand him. I compare him to Skip Gates. He'd clearly let you understand what was happening and what you needed to do about it."
Madison, known as "The Black Eagle" used the example of some politicians and commentators equating the Affordable Care Act with the Fugitive Slave Laws.
"If I could pick up the phone, to talk about, this, this foolishness, he'd have gone through history, then ripped them a new [one], showing them that there's nothing to compare it to. George Will made the statement about the Fugitive Slave Laws but people are only Google search engine deep."
"He was a class act always."
Curry, editor in chief of the National Newspaper Publishers' Association News Service, recalled Walters' involvement in the Rev. Jesse Jackson's presidential runs in 1984 and 1988.
"I covered Jesse Jackson's 1984 campaign and saw Jesse in blue jeans absorbing what Ron told him. He'd 'Jesse-ize' it and he was never embarrassed in foreign policy," said Curry, a syndicated columnist and former newspaper reporter.
Ryan echoed her colleagues' comments about Walters' dedication to the black media.
"I called him at President Obama's first press conference. There were four or five African Americans there. It was my first time ever asking any president a question so I was going to call him," said Ryan, a 27-year journalism veteran and White House correspondent for the American Urban Radio Networks. "He never let on that he was ill. He told me to talk about the poverty agenda and jobs issues."
Dyson spoke of being in awe of Walters' intellectual prowess.
"He was a public intellectual before there was a term for it," said Dyson, a Georgetown University professor, ordained Baptist minister and author of 17 books. "We're talking about the lucidity and clarity with which he controlled that information. He was a scholar's scholar. He did the spade work – he dug deep. As they would say in the country, he dug deep enough not to suck mud."
"He was quiet thunder. He had no ego about him and didn't worry about pride of authorship. He understood the need for information and was constantly engaging in analytical depth and putting it in perspective. Our sense of history is five, 10 years; his is 500, a thousand years."
One topic that generated sharp and pointed exchanges was Obama's time in office, the challenges he faces, the obstructionist Republicans and how well or how poorly his administration has addressed and dealt with black issues and concerns.
"Frankly, I think he'd be disappointed with Obama, I just gotta say it," said Curry. "… He pulled me out of a panel discussion and said people are enamored with him but we have to look at his policies. The question Ron always asked was 'How did it affect his people?'"
Madison said he met frequently with Obama and usually left extremely frustrated. Ryan added that there is a level of expectation in the black community that hasn't been met. And Dyson said that while he has enormous respect for Obama, he likened the relationship between blacks and Obama to unrequited love.
"I don't know about first-term Barack Obama but second-term Barack Obama, Ron Walters must be whispering in his ear," Madison joked.
Of Walters, Madison said he appreciated black media more than anyone else in his position and "made sure the black press got it first."
Madison said he quotes bits of Walters' sentences, columns and speeches and brings him up in conversation often.
"Ron, I'll never let you be undervalued, underestimated or marginalized," he said in closing.