Go-Go Legend D. Floyd to Celebrate 30th Anniversary at Howard Theatre
WI Web Staff | 10/17/2013, 8 p.m.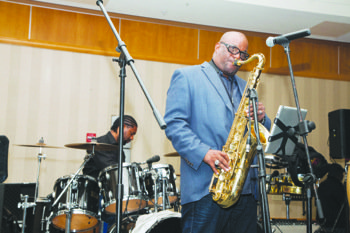 Go-go legend Donnell "D. Floyd" Floyd will celebrate his 30th anniversary in the music industry on Saturday, Oct. 19 at 9:30 p.m. at the historic Howard Theater.
The celebration will pay homage to the D.C.-area native's contributions to the music industry, particularly in go-go, the city's predominant genre of music. Several special guests are scheduled to attend, including Sugar Bear, Big G and Steve Roy and many others.
D. Floyd was born and raised in the D.C. metropolitan region and attended Duke Ellington School of the Arts, joining renowned go-go band Rare Essence during that time.
RELATED: D. Floyd Recalls 30 Years in 'Go-Go'
He performed with Rare Essence from 1983 to 2001, recording songs with such greats as Doug E. Fresh, Heavy D and Redman during his stint with the band. It was this repertoire of musical collaborations in conjunction with his passion and love for all things music that spawned Floyd's creativity to produce famous classics such as "Work the Walls," "Lock It" and "Overnight Scenario."
Since 2001, D. Floyd has enjoyed success with Familiar Faces (formerly 911). He has performed with many noted recording artists, including R. Kelly, Fantasia, Marsha Ambrosius, Montell Jordan and Tony Terry.
For ticket information, please call (202) 803-2899 or visit http://familiarfaces.org/ai1ec_event/donnell-floyd-celebrating-30-years-howard-theatre-sat-oct-19.