Obama Taps Jeh Johnson to Lead Homeland Security
WI Web Staff | 10/18/2013, 11 a.m. | Updated on 10/18/2013, 2:25 p.m.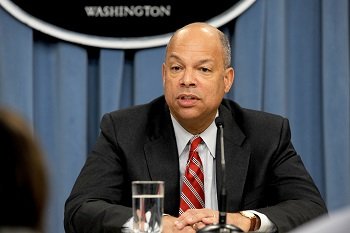 President Obama has selected former top Pentagon lawyer and longtime Democratic Party fundraiser Jeh Johnson to head the Department of Homeland Security.
Obama announced the nomination Friday at the White House, calling Johnson a trusted "team player" with experience in effectively leading large and complex organizations.
"Jeh has a deep understanding of the threats and challenges facing the United States," Obama said. "As the Pentagon's top lawyer, he helped design and implement many of the policies that have kept our country safe, including our success at the dismantling of the core of al Qaeda."
Johnson, 56, a Morehouse graduate who received a law degree from Columbia, served as general counsel at the Defense Department during the wars in Iraq and Afghanistan before leaving in December to return to private practice.
Pending Senate confirmation, he will succeed Janet Napolitano, who since 2009 had been the first female in the position of DHS Secretary before resigning in August to become president of the University of California system.
Johnson would be the first African-American to head the department.
On Friday, Johnson called the nomination a "tremendous honor" and said he is dedicated to public safety.
"I am a New Yorker, and I was present in Manhattan on 9/11 — which happens to be my birthday — when that bright and beautiful day was shattered by the largest terror attack on our homeland in history," he said. "I wandered the streets of New York that day and wondered 'What can I do?' Since then, I've tried to devote myself to answering that question."
Johnson said that before the president's offer he had no plans to reenter public service.
"When I received the call, I could not refuse it," he said.