'State of Schools' Stresses Progression, Unity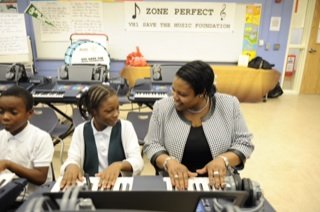 In her "State of the Schools" speech Thursday evening at the newly-refurbished Cardozo Education Campus in Northwest, Kaya Henderson, District of Columbia Public Schools (DCPS) chancellor, often expressed "togetherness" as a key component in moving the city's public schools forward.
However, while clearly conveying that her goals must include unwavering effort in support of students, teachers and the engagement of families, Henderson failed at times, to be more specific.
"The schools are on the move and headed in a new direction," Henderson told the audience of more than 300 people who packed Cardozo's auditorium. "With everyone working together, nothing can stop us from achieving [our] goals," the veteran educator, who was introduced as a "fearless leader," said. "I've come to realize that we've been so focused on doing the hard work, that we don't always help others to understand exactly how much progress we've made."
In following Mayor Vincent C. Gray's "One City" mantra that, in part, focuses on improving the quality of public education, Henderson asked her attentive audience to imagine "a very different" school system where all the buildings are new and offer top-notch resources and educators – and graduate students amply prepared for their next steps in life.
In getting there, "we need to provide our students with rigorous academic content and we need motivated students with engaged families," said Henderson.
While the chancellor mentioned goals to increase reading and math levels to 70 percent during the course of the five-year, "A Capital Commitment" plan that was revealed in 2012, she also aims for a comparable surge in graduation rates.
"I could go on for hours , but the long and short of it, is that I don't think of our work as trying to fix a broken school system," said Henderson, who received a standing ovation at the end of her lengthy speech.
Although Ward 8 Council member Marion Barry thought Henderson's speech was "positive and uplifting," he said she was vague addressing concerns of low-income households.
"I don't think she put enough emphasis on the challenges that are faced by low-income parents who send their children to DCPS," Barry said. "She should have spoken more on what they're going through in light of the school closings she mandated."
Follow Dorothy Rowley on Twitter @DorothyRowley.