11-Year-Old to Represent D.C. in National Halloween Costume Contest
10/22/2013, 1:47 p.m.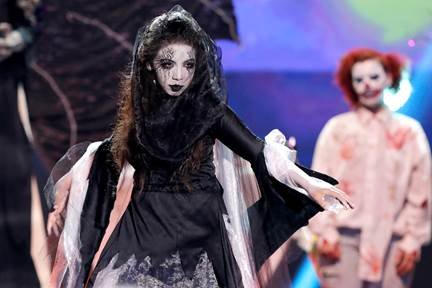 Chrislyn Patillo has been selected to represent D.C. as one of 50 semifinalists representing each state in America for the first-ever nationwide Halloween costume competition hosted by the Hub Network, a destination for children and their families.
Chrislyn, 11, who watches the Hub Network on Comcast, is competing in the Spooktacular category.
The semifinalists will travel to Los Angeles to be a part of the televised costume competition judged by Halloween-expert Martha Stewart, actor Hal Sparks ("Spider Man 2"), and singer/actress Coco Jones ("Holla at the DJ"). The winner will take home $25,000 and will have a chance at a walk-on role on the Hub Network's Daytime Emmy Award-winning series, "R.L. Stine's The Haunting Hour: The Series."
The winners will be revealed on the "Hub Network's First Annual Halloween Bash," hosted by Kenan Thompson ("Saturday Night Live"), on Saturday, Oct. 26 at 8 p.m. ET.
The star-studded, two-hour special also includes performances by pop star Cody Simpson and America's first teen-girl pop group Fifth Harmony, plus appearances by Bailee Madison ("Trophy Wife"), Rico Rodriguez ("Modern Family"), Nolan Gould ("Modern Family"), Zachary Gordon ("Diary of a Wimpy Kid"), Keean Johnson ("Spooksville") and Todd Newton ("Family Game Night"), among many others
Viewers can visit hubworld.com/halloween to view all of the Halloween costume submissions and learn more about the special.