Unemployment Rate Drops to 7.2 Percent
WI Web Staff | 10/22/2013, 11:45 a.m.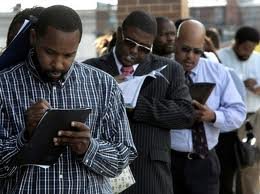 The nation's unemployment rate is at its lowest since President Obama took office, the Labor Department reported Tuesday.
The economy added 148,000 jobs in September amid the threat of a government shutdown, which eventually hampered the nation's economy for more than two weeks and delayed this month's jobs report. Analysts had expected job growth of about 185,000, according to a Bloomberg survey of economists.
However, the joblessness rate dropped 7.2 percent, down from 7.3 in August and continuing a steady decline since July. The rate is the lowest since November 2008 — the month Obama was elected — when the country was in the throes of the Great Recession.
The rate at this time last year was 7.8 percent.
The White House said Tuesday that the government shutdown has slowed job growth. Council of Economic Advisers Chairman Jason Furman said an estimated 120,000 fewer jobs were available through Oct. 12 because of the shutdown.