Belafonte Critiques Obama, Social Movements at IPS Conference
Margaret Summers | 10/23/2013, 3 p.m.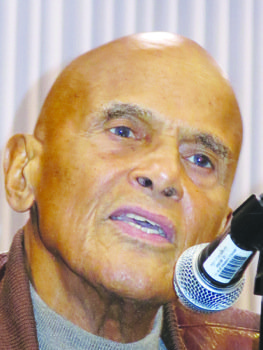 Noted African-American actor, singer, songwriter and activist Harry Belafonte told a crowd of more than 250 in Washington, D.C.'s Liaison Hotel Metropolitan Ballroom that if organizations like the District-based Institute for Policy Studies (IPS) want President Obama to take more politically progressive domestic and foreign policy positions, they will have to "make him do it."
Belafonte, 87, made his remarks during a plenary session of the IPS's recent "Ideas into Action Festival," held to celebrate the think tank's 50th anniversary.
"I never expected to live this long. There's no virtue in aging. The only consolation I have is that (actor and friend) Sidney Poitier is eight days older than I am."
IPS was founded in 1964 by two former Kennedy administration officials, White House staffer Marcus Raskin and State Department attorney Richard Barnet.
The Northwest-based nonprofit supports national and global movements for peace, justice and the environment through books, films, educating policymakers and the public, and crafting strategies to assist social justice efforts. IPS Fellow Bob Moses directed the 1964 Mississippi Freedom Summer campaign, in which white and African-American college students traveled to the state to register African Americans to vote.
Explaining how activists could make President Obama alter domestic and foreign policy approaches, Belafonte recounted an incident told to him years ago by Eleanor Roosevelt, widow of President Franklin Roosevelt. "President Roosevelt met with A. Philip Randolph (founder and head of the Brotherhood of Sleeping Car Porters). He told Roosevelt he wasn't using the 'bully pulpit' as often as he should (to change conditions for African Americans). President Roosevelt said, 'There's nothing you have said that I don't agree with. But you have to make me do it.'"
"I think President Obama has said 'Make me do it' in so many words, although not as passionately," said Belafonte at the Oct. 12 event. "There is much that we can do. I don't want to take us (progressive activists) off the hook. I said to a friend recently, President Obama may be a great negotiator, but he hasn't given us enough. He promised us nothing. We have to push events before him in a more vigorous way, to awaken him."
Belafonte said no president has promised progressive social change. "The difference with the Kennedy administration was what we (activists) did to 'make them do it.' There has been an absence of the political Left (in domestic and foreign policy discussions). But I don't think it's too late (for the Left to become involved)."
Belafonte said he's encouraged that more young people are becoming activists. He cited the Florida-based youth organization called The Dream Defenders, whose members occupied Florida Gov. Rick Scott's office for a month this summer. They demanded a special legislative session to pass "Trayvon's Law." If enacted, the law, among other things, would repeal Florida's Stand Your Ground law, which Trayvon Martin's killer George Zimmerman evoked to justify using deadly force against the unarmed African-American teenager. Belafonte joined the demonstrators and urged them to remain strong.
"We (in the civil rights movement) didn't pass the baton to young people," he said. "We fought for the right to vote but when (African-American) people got the spirit to vote, they asked 'Who are we voting for and what are we voting for?' The only people they trusted were those in the civil rights movement," Belafonte said.