DCPS Honors Teachers, Administrators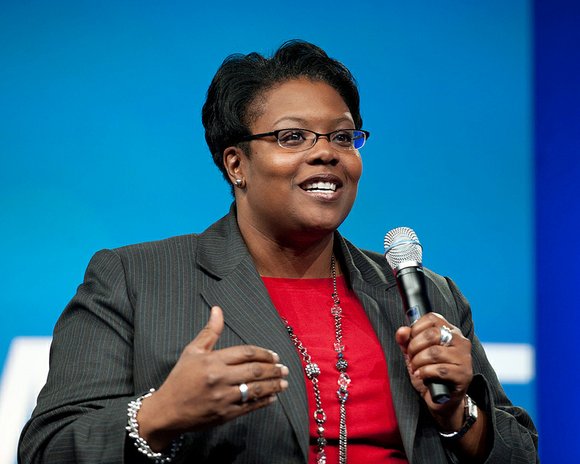 October has been an exciting time for the educators of the District of Columbia Public Schools (DCPS) system.
Kathy Hollowell-Makle, a kindergarten teacher at Simon Elementary, and Kelly Miller Middle School principal Abdullah Zaki were named as the school system's teacher and principal of the year on Oct. 15.
"This is my one of my favorite times of the year — when we get to brag about the amazing accomplishments of our educators," said schools Chancellor Kaya Henderson, who presented the awards along with D.C. Mayor Vincent Gray. "Principal Zaki and Ms. Hollowell-Makle are outstanding educators who give their all to their students."
On Nov. 4, Hollowell-Makle and Zaki will be among several educators who will be honored during the "Standing Ovation for D.C. Teachers" event at the Kennedy Centers for the Performing Arts.
Teachers Asonja Dorsey of Maury Elementary, Fran McCrackin of Janney Elementary, Chenise Richards of Collidge Senior High, William Taylor of Wheatley Education Campus, Hardett Taylor-Brown of Cleveland Elementary and Davey Yarborough of Duke Ellington School of the Arts will also be recognized.
"These remarkable educators represent the best of DCPS," Henderson said. "Their commitment to their students is inspirational and I'm so excited to honor them."
In her "State of the Schools" address, Henderson said the schools system is on a path of progression.
Her office cited a study released Oct. 17 by the Stanford Graduate School of Education and the University of Virginia Curry School of Education, which found that IMPACT, the five-year old teacher evaluation system, was responsible for instructors' significantly improved classroom performance.
"Every DCPS parent — myself included — wants a great teacher for their children. It's why we've staked our reputation on building the strongest teaching force in the country," Henderson said. "It's why we've focused so much of our energy on making sure that every classroom in every ward has a teacher that inspires their students to achieve at high levels. We still have so much work to do, but as this study shows, we're making enormous progress toward this goal."