LETTERS TO THE EDITOR: Gray Takes a Stand
10/23/2013, 3 p.m.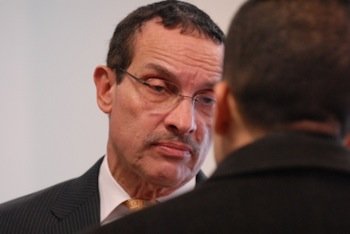 As a lifelong resident of the District of Columbia I have developed a "tough skin" in order to deal with the disrespect from Congress, and at times, from the White House administration. When I acknowledge myself as being a D.C. resident when traveling around the country, I have to endure countless jokes about the legal problems of former mayors and city council members.
Don't let me bring up the fact to those who visit our city that we don't have any representation in Congress! Non-District residents wonder why we need any representation for a city with only government buildings, galleries and monuments.
So when I picked up The Informer this week, October 17, 2013, and saw the front-page photograph by Khalid Naji-Allah of Mayor Vincent Gray standing defiantly in front of the Capitol, I felt a great sense of pride. If nothing else, that photograph tells us that our city leaders do not just roll over and say nothing about national matters that directly and indirectly affect our city. Photographs can convey many different meanings, depending on who is looking at them, and one photograph can speak volumes.
Richard Allensworth
Washington, D.C.
An Act of Kindness
Stacy Brown's article, "Wizard Player's Random Act of Kindness," October 17, 2013 is exactly the kind of story I would expect The Informer to write about. Not that it's so unusual for a NBA player, in this case Otto Porter, to buy and have lunch with a homeless person, because I think countless NBA players perform acts of kindness all the time; it's just not publicized.
Most of the stories written about star athletes in the mainstream media discuss how much money they make, flaunt, and throw away. I hope coaches from all over our region read and share this article with all of their student athletes. Use it as a teaching tool on how to be humble, and compassionate to those who are less fortunate.
Thanks for writing this story because it shows me that one simple act of kindness can go a long way.
Bobby Nelson
Washington, D.C.