Mitsubishi Regains Relevancy with New Outlander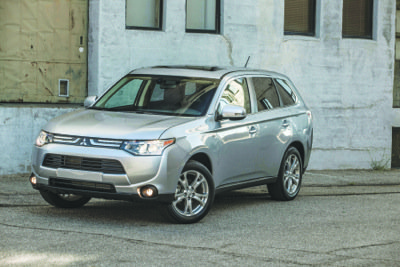 In 2012 when Suzuki pulled out of the U.S. auto market, many observers speculated that the next shoe to drop would be Mitsubishi. It's easy to understand why many think Mitsubishi might not survive for long in the highly competitive U.S. market. Weak sales and declining consumer confidence in the automaker's vehicles have bedeviled Mitsubishi for years. Its market share now stands at 0.3 percent, a decline from 0.6 percent just before the recession.
But things are changing fast and the automaker's officials say they have strong expectations for the U.S. market. Mitsubishi's U.S. unit is part of a big global company, so it isn't under as much pressure to turn around the U.S. performance overnight, as a smaller company like Suzuki would be. Also on the plus side, Mitsubishi sales have begun to inch up – showrooms experienced a 24.3 percent increase this year alone, compared to August 2012.
New models, such as this week's test drive vehicle, the Outlander Sport crossover are leading the way with sales. Available in four-cylinder (SE) and six-cylinder (GT) models, the SUV crossover has sold 2,171 units this year, which is an increase of more than 59 percent compared to the previous model.
With a starting MSRP of only $22,995, the new 2014 Mitsubishi Outlander comes with a long list of standard features and is one of the most fuel efficient crossover vehicles in its class with an EPA fuel mileage rating of 31 mpg highway (ES and SE FWD models). The Outlander has also earned the Insurance Institute for Highway Safety (IIHS) "Top Safety Pick+" designation – its highest accolade for vehicles that offer superior crash protection.
Slightly lower, lighter, and more carlike than last year's model, the 2014 Outlander is available with a number of highly advanced safety technologies including radar-based Forward Collision Mitigation (FCM) and Adaptive Cruise Control (ACC) systems as well as a camera-based Lane Departure Warning (LDW) system.
On the road, the driving experience is competitive with Nissan Rogue and Toyota RAV4 models we have driven in the past few months. Even the base 2.4-liter four-cylinder engine, which now includes variable valve lift as well as timing, feels quite perky on the highway. The GT model packs a more powerful 224-hp V-6 that's quicker but considerably thirstier and asks for premium fuel.
The Outlander's AWD system, according to several journalist colleagues who have tested it, provides enough toughness for minor off-roading or deep snow. A new electric power steering system, softer springs and more noise insulation give the cabin a quiet, tighter feel. Materials are well above par in almost every respect compared to other roomy compact crossovers we have driven.
As one of the lowest-priced vehicles offering three rows of seating, the Outlander can fit up to seven and includes a good driving position (with tilt/telescopic steering) and good headroom and legroom for adults in the second row. For the third row, however, even small children squirm for space after a ride across town. Making anyone sit there should be left for the occasional carpool.