New Jimi Hendrix Film on the Way
Late Legend is Focus of PBS Documentary, DVD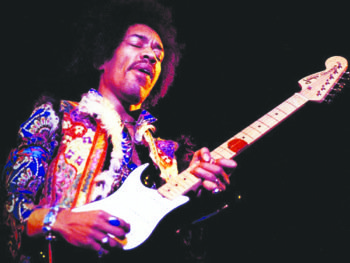 By 1965, Hendrix had performed with Tina Turner, Sam Cooke, the Isley Brothers, and Little Richard. His first single, "Hey Joe," spent 10 weeks on the United Kingdom music charts, topping out at No. 6 in 1967.
The Monterey International Pop Festival in 1967 put Hendrix on the map in the United States and forever solidified his status among the greats in music history. At the festival, he unleashed the hit, "Wild Thing," which catapulted Hendrix to new heights. With his band, the Jimi Hendrix Experience, the rock star quickly became one of the highest grossing and most popular musicians in the world.
For Woodstock in 1969, Hendrix joined forces with several of the more eclectic musicians in the country and helped make the experience memorable for hundreds of thousands who attended.
"His music was so visual. When he played a song and wanted seagull sounds in it, he would get those sounds," said Metallica bassist Kirk Hammett. "If he wanted his guitar to sound like it was underwater, he could do that," said Hammett, 50.
Recently discovered footage from the Miami festival includes direction from Bob Smeaton, whose other documentaries include, "The Beatles Anthology," "Festival Express," and others.
"The biggest challenge was that having done a number of Hendrix projects in the past, I had to find a way of getting everything I wanted into the film without having it run six hours," Smeaton said. "The hardest thing is trying to stay fresh."