THE RELIGION CORNER: Domestic Violence Month — The Big Secret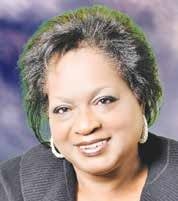 This week, my series continues on the topic of domestic violence, "The Big Secret."
 This story, picked up by the National Newspaper Publishers Association, is now reaching women all across America. It's my chance to reach millions of victims living with domestic violence daily; women who suffer, are brutalized, murdered, and in many instances, their children are shot, stabbed, and burned to death too. The entire family is at risk, it's literally killing families!
According to Domestic Violence Statistics, a national nonprofit organization, domestic violence is the leading cause of injury to women – more than car accidents, muggings, and rapes combined. In this column, I share yet another sad story.
Darlene Greene, formerly from Chicago, Ill., has founded The Ina Mae Greene Foundation: For My Sisters, a non-profit with the mission, to save women from the devastation of domestic violence.
Darlene Greene now resides in Grand Prairie, Texas, near Dallas; she's a survivor of domestic abuse.
Once married to a man with a monstrous personality, her life was turned upside down. Even as a newlywed, her husband became physically, emotionally and financially abusive. The man she thought would love and cherish her, he was highly respected in the church where he professed salvation in Christ, was like living with an untamed, dangerous animal!
Although her heart didn't want to go against him, she knew! Darlene tells me, she wanted to believe he would not abuse her again as he had so often promised.
The harsh and painful reality for her was, she was also hurting her family, her 13-year-old son, was subjected to fights day-after-day; plus Darlene had custody of her youngest sister's daughter; remember I recounted her story in a previous column. Darlene sister, Ina Mae was killed by her partner who happened to be a police officer. Here the young girl was living in a home where her primary caregiver was being beaten and abused again. A family curse continued.
What she was doing to her family, is what all abused mothers have done while living in a marriage with domestic violence.
There were many breakups during this short marriage, finally ending in divorce. Darlene knew in her spirit that if she went back to him that one last time, he would have killed her.
Women in violent relationships often forget they are not the only victims of this crime. Not only is there an emotional toll on the other people living in the home, but it's also dangerous for them as well. (70 percent of the time when a man is abusing his wife he is also abusing the children living in the home).
Darlene began to wonder, 'How did I get here?' 'How do smart women like me, my aunt and my cousin end up in physically abusive relationships?'
Darlene and her family were living the legacy handed down by the women in the family. Why? Because they didn't know violence and physical fighting wasn't a normal part of a healthy relationship. After all, that's the way it was in that family.
One day, Darlene divorced him! Now, she has a healthy lifestyle, her foundation helps. The curse is broken!
We must teach our daughters and our sons that violence of any kind is unacceptable. Recognize bad behavior and get out immediately.
Repeat these scriptures, Colossians 3:19 says, "Husbands, love your wives, and do not be harsh with them. And 1st Peter 3:7 says, "Likewise, husbands, live with your wives in an understanding way, showing honor to the woman as the weaker vessel, since they are heirs with you of the grace of life, so that your prayers may not be hindered.
Lyndia Grant is an author, inspirational and motivational speaker, radio talk show host and columnist; if you would like Lyndia to serve as facilitator for your retreat or special event, call 202-518-3192. Tune in Fridays at 6 p.m., to the radio talk show on 1340 AM (WYCB), a Radio One Station.