Six Tips for Quick and Convenient Healthy Eating During the Holidays from a Holistic Chef
Shelley Alexander | 10/23/2013, 3 p.m.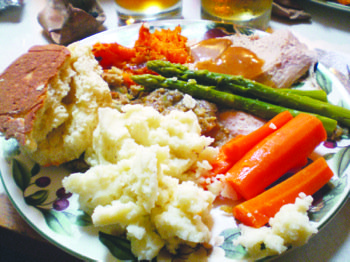 Invest in a dehydrator. Dehydrate fruits and vegetables and raw nuts or seeds that have been soaked in unrefined sea salt water (which removes anti-nutrients, kick-starts the germination process, and increases key vitamins), and you'll have plenty of on-the-go snacks with a long shelf life. Dehydrators are convenient and easy to use; Alexander recommends Excalibur.
Make batches of fermented vegetables twice a month. Alexander recommends eating fermented vegetables every day to keep your digestive system healthy. They're loaded with probiotics – the good bacteria your intestines need. Mix a variety of organic vegetables such as carrots and celery into brine with warm filtered water, unrefined sea salt, and cultured vegetable starter or liquid whey, and mix with shredded cabbage heads. Pack the mixture into sterilized glass jars and allow the vegetables to ferment for five to seven days. Once done fermenting, it can be stored in the refrigerator for up to 6 months.
Stick to whole, healthy foods this holiday season, and you'll feel so good, you won't want to go near the buffet table at your office party," Alexander says.
Shelley Alexander has enjoyed a lifelong love of delicious, locally grown, seasonal foods. She received her formal chef's training at The Los Angeles Culinary Institute. Alexander is a holistic chef, certified healing foods specialist, cookbook author and owner of holistic health company A Harmony Healing, located in Los Angeles.