Va. House of Delegates Candidates Appeal to Ethnic Press
Margaret Summers | 10/23/2013, 3 p.m.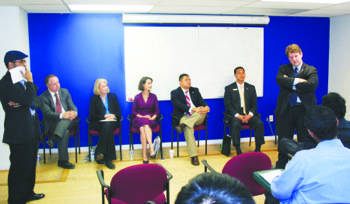 Virginia's gubernatorial race between Democrat Terry McAuliffe and state Republican Attorney General Ken Cuccinelli dominates headlines, but on Tuesday, Nov. 5, Virginians also vote for House of Delegates candidates. All 100 Delegates' seats are up for grabs. Virginia's voting population of color has increased significantly, and candidates frequently ask them for support.
Six House of Delegates candidates, half of them ethnic, recently spoke with ethnic news media at the Tenants and Workers United building on Mt. Vernon Avenue in Alexandria. New America Media, a California-based national organization of 3,000 ethnic media, and the Virginia New Majority Education Fund, a civic engagement organization sponsored the event. The participating candidates were Democrats. Republican candidates, invited to participate, did not attend. Reporters represented Ethiopian, Latino, Indian and Vietnamese news outlets.
"Fifty-seven million Americans nationwide regularly access ethnic media," said Khalil Abdullah of New America Media.
Alfonso Lopez, 43, who is running for re-election, noted that his 49th District, comprising parts of Arlington and Fairfax Counties, exemplifies Virginia's changes. "One hundred eight languages are spoken there," he said.
The son of a Venezuelan immigrant father, Lopez, the first Latino Democrat in the House of Delegates, said he's on a mission. "When I'm re-elected, I will work to get the Virginia Dream Act passed. The state's demographics demand it." The act would allow eligible undocumented immigrants to pay in-state college tuition rates. The state House Appropriations Committee refused to hold a hearing on it in February, and it never reached the House floor.
Retired Air Force Major John Bell, running for the 87th District, said he also supports the measure. Bell's district, created in 2011, encompasses parts of Loudoun and Prince William Counties. "It's close to being majority minority, with a large Indian population," he said.
Jennifer Boysko, 46, is running for the 86th District, which covers parts of Loudoun and Fairfax Counties. Her involvement in public service includes working for U.S. Sen. Richard Shelby (R-Ala.) when he was a Democrat. "I've watched Virginia's General Assembly move further to the right," she said. "I decided to run." Boysko's district is 50 percent minority: 21 percent Asian, 21 percent Latino, and eight percent African American.
Richard Cabellos is running in the 50th District. It covers parts of Prince William County and the City of Manassas, and is 25 percent Latino and 20 percent African American. Currently the director of a Reston community center, he would be the first Latino immigrant in the House of Delegates if elected. His Peruvian father and Honduran mother came to the U.S. 50 years ago seeking a better life. "What's important to me is opportunity," he said. In recent years, the majority-Republican House of Delegates cut funding from education and ESL (English as a Second Language) programs leading to opportunities, said Cabellos.
Kathleen Murphy, 65, a candidate for the 34th District, which covers McLean, Great Falls and parts of Vienna and Loudoun County, is president of a McLean-based legislative strategies firm. "We have a state legislature so worried about whether two gay men should get married, or whether a woman will take a birth control pill, they forget we need good schools and better transportation," she said. "I support the Virginia Dream Act. The children brought to this country [by immigrant parents] are not victims, but success stories. [Virginia] has a history of legislators running on discrimination. That has to stop."
Hung Nguyen, who owns an IT consulting company, is running in District 67. It is five percent African American, 21 percent Asian and includes parts of Fairfax and Loudoun Counties. If elected, he would be the first Vietnamese American serving in a state legislature anywhere on the East Coast. "We (ethnic communities) are communities of interest, and we are underrepresented [in electoral politics]," said Nguyen, a lifetime NAACP member.
The candidates expressed alarm over the state's eliminating more than 38,000 names from the voter rolls. "Purges, voter IDs and other restrictions unfairly impact seniors, young people, and people of color," said Bell. On Friday, Oct. 18, U.S. District Judge Claude M. Hilton rejected a Virginia Democratic Party lawsuit, which would have restored the names, saying he found no inequitable treatment or deprivation of anyone's rights.
The candidates said voter turnout is especially critical in this election. "Our biggest challenge is showing people how Republican Delegates have voted, and on what issues," said Murphy.
Nguyen said it's important to protect the vote.
"District of Columbia residents are more than welcome to come to Virginia as volunteers, and help us protect the vote, and get out the vote."