D.C. Teacher Kena Allison Surprised With $25,000 Milken Award
WI Web Staff | 10/24/2013, 3 p.m.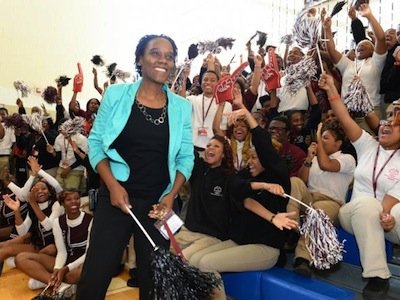 Kena Allison, a physics teacher and instructional specialist at Thurgood Marshall Academy in Southeast, was surprised Thursday with the prestigious Milken Educator Award.
During a school-wide assembly to celebrate the school's distinction as a top-performing "Reward School," Milken Family Foundation co-founder Mike Milken and acting D.C. State Superintendent of Education Jesús Aguirre presented Allison with the individual award, which also came with a $25,000 check.
"Kena is at the heart of our school," said Alexandra Pardo, Thurgood Marshall's executive director. "She is a relentlessly dedicated educator with an unwavering commitment to both student support and teacher growth."
Among the many dignitaries on hand were D.C. Council member David Catania and the city's Mayor of Education Abigail Smith, who presented a proclamation from Mayor Vincent Gray.
Allison, an Ohio native, spent a year in medical school before deciding to enter the teaching profession, eventually receiving her Masters in teaching from American University.
During her time at the charter school, she has come to be regarded by colleagues as "irreplaceable," using innovative and unorthodox methods to teach her 12th-grade physics students.