D.C. Mayor Gray Orders Citywide Freeze on Hires, Pay Raises
WI Web Staff | 10/25/2013, 3:55 p.m.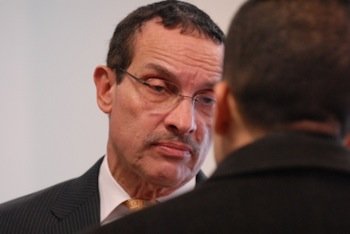 D.C. Mayor Vincent Gray has ordered the continuation of a citywide freeze on hiring and pay raises to rein in the spending of government agencies.
The executive order, which was issued Wednesday and made public Friday, is meant to address potential "spending pressures" — warnings issued to city agencies that they are overspending their budgets, the Associated Press reported. All hires, raises, bonuses and travel for city workers must now be approved by the city administrator.
Pedro Ribeiro, a spokesman for the mayor, told AP the policy has actually been in place every year since the mayor took office in 2011.
On his official Twitter account, Gray tweeted Friday afternoon that news of the freeze is "much ado about nothing."
The city, which ended fiscal 2012 with a $417 million budget surplus, is required by law to maintain a balanced budget.