Redskins Name Change on Horizon? Snyder Neighbor Trademarks 'Bravehearts'
WI Web Staff | 10/25/2013, 1:30 p.m. | Updated on 10/25/2013, 4:20 p.m.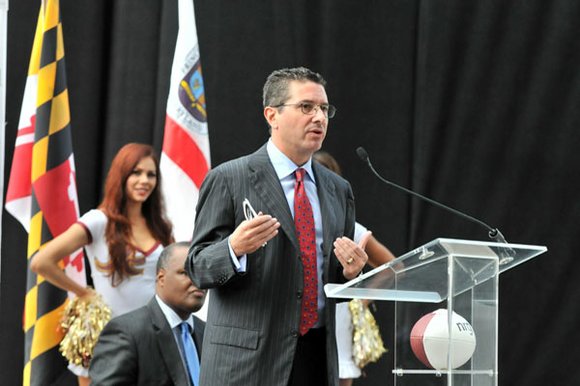 A neighbor of Washington Redskins owner Daniel Snyder has registered the name "Washington Bravehearts" to use for "entertainment in the nature of football games."
Aris Mardirossian, a wealthy patent investor and neighbor of Snyder's in Potomac, Md., registered the name on Oct. 17, entertainment website TMZ reported Friday. According to the trademark application obtained by TMZ, Mardirossian created a company called Washington Brave Hearts, LLC on the same day.
The connection between the two men hasn't been established, though TMZ reported the two joined forces in separate battles with Montgomery County officials to cut down trees on their respective properties.
Mardirossian fought with neighbors in 2007 when he sought to cut down trees on his property near the historic Chesapeake & Ohio Canal because he said the trees triggered his children's allergies. Two years prior, more than 100 trees were controversially cut down on Snyder's nearby property.
In a statement obtained by WRC (NBC 4), a team spokesperson refuted the TMZ report: "There is no connection between the trademark and the Washington Redskins. In fact, Dan Snyder does not know the man that is in the reported story."
The oft-contentious issue of the team's nickname has heated up in recent years as other sports teams with nicknames deemed racially insensitive toward Native Americans have changed in an era of increased political correctness.
President Obama said earlier this month that he would consider changing the name if he owned the team.
Snyder, a "lifelong" Redskins fan who purchased the team from Jack Kent Cooke for $800 million in 1999, has for years steadfastly refused to consider a name change. However, his stance softened a bit in recent weeks, as he stated in a letter to season-ticket holders that he would "continue to listen and learn" from those opposing the Redskins name.
Oneida Indian officials who oppose the nickname will meet with NFL officials next week in New York City, a tribe spokesman told the Associated Press on Friday.