Howard University Homecoming's Triumphs and Woes
Violence Mars Concert, Bison Win on Gridiron
Stacy M. Brown | 10/25/2013, 4:45 p.m. | Updated on 10/30/2013, 3 p.m.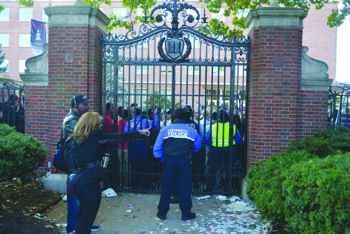 Howard University celebrated homecoming week, but the famed school in Northwest Washington, D.C., received a black eye after violence erupted at one of its pregame concerts, leaving several people injured including two Metropolitan Police Department (MPD) police officers.
"It was chaos, confusion and the simple question of why," said Howard senior, Vanessa Henley, who attended various events to celebrate homecoming. "This is all about ignorance and one or two bad apples spoiling things for the whole bunch," said Henley, 21.
Each year, Howard attracts tens of thousands to homecoming week and includes some of the biggest names in the music industry to headline their concerts. This year's activities kicked off on Oct. 22, with a pep rally at Howard's William H. Greene Memorial Stadium.
Two days later, school officials hosted the annual fashion show and featured performances by the Washington Ballet, the Kirov Ballet Academy and the Howard Gospel Choir.
"Everything was going well, everyone was having fun," said Freshman Elijah Lennox.
The festivities took a turn for the worse on Friday, Oct. 25, when a group tried to ram the gates at the school's annual YardFest concert at 6th Street and Howard Place in Northwest, shortly after 3 p.m.
A news video captured one woman jumping the fence. However, MPD officers quickly apprehended the unidentified woman. In another video widely circulated on the website, YouTube, MPD officers held a man on the ground while a swarm of people stormed the gates to the concert, where artists Juicy J and A$AP Ferg were entertaining the crowd. The concert eventually continued with rappers Bone Thugs-n-Harmony, and Big Sean performing before the sold-out crowd.
The sirens and alarms which echoed throughout the area proved disconcerting for the Howard faithful, some of whom blamed the mini-riot on the price of admission for the concert, which had been free in previous years.
"We're all upset about having to pay," said Savannah Bowen, a junior at Howard. According to various published reports, Howard officials decided to charge for the event after announcing that rap superstar 2Chainz would also perform. Demand for tickets skyrocketed and scalpers sold $5 tickets for more than $100. Students and other patrons found themselves standing in long lines for hours waiting to enter the gates.
"People got frustrated, plus the troublemakers [weren't] Howard students," Henley said.
Long before the incident, some had called for an end to the annual homecoming event because of the financial woes facing most Historically Black Colleges and Universities (HBCUs).
"Look at what happened this month with Grambling State University. That school doesn't have enough money to outfit their football team with the basic equipment and a decent locker room," said Sydney Shaw, a junior at Howard. "To host a successful homecoming week, it takes a lot of resources. Resources we just don't have," said Shaw, 21.
Shaw, a communication's major, said the financial issues facing Howard and other HBCUs are making it difficult to field athletic teams, provide academic tools and hire the [country's] best professors.