Howard University Homecoming's Triumphs and Woes
Violence Mars Concert, Bison Win on Gridiron
Stacy M. Brown | 10/25/2013, 4:45 p.m. | Updated on 10/30/2013, 3 p.m.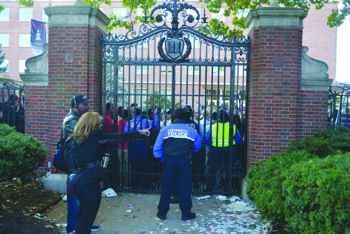 "It's going to get to a point where someone will finally realize that the aggravation and the expense of homecoming and all of these concerts, step shows, and the other hoopla, just [isn't] worth it," he said.
Homecoming events also included a parade along Georgia Avenue and Fairmont Street in Northwest, a reunion party, alumni BBQ, and two R&B concerts featuring Trey Songz, Brandy, and Eric Benet. A gospel show featuring Mary Mary closed out homecoming festivities on Sunday, Oct. 27, at Cramton Auditorium.
The week's homecoming activities, specifically the unrest at the rap concert, overshadowed the Howard Bison's convincing 28-14 victory over Morgan State on Saturday, Oct. 26.
Led by running back Anthony Philyaw, who rushed for 98 yards and three touchdowns, the Bison improved to 3-5 on the season and 2-3 in conference games. Philyaw, the 18-year-old freshman, opened the scoring with a one-yard touchdown run in the first quarter. The packed house at Greene Stadium cheered throughout even when the Morgan State Bears attempted a comeback, pulling within a point late in the first half.
A fake punt, a Philyaw touchdown, an interception and a fumble ended any hopes Morgan State had of catching the Bison.
"I still say, despite the police incident, that this was a successful homecoming event," said Howard University senior, Jonah Thompson. "We can't judge a week's worth of fun, a fabulous win for our football team, and all the other good [events] on just one incident," said Thompson, 21. "Besides, I don't think any of the troublemakers were from our school and I hope people remember that and remember that Howard University is a proud school with a great tradition and we have alumni who are loyal and love their Bison."