COMMENTARY: Condoleezza Rice Up to the Task for Football Playoff Committee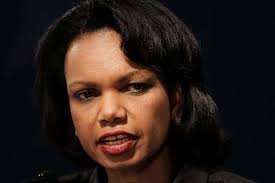 For decades, college football fans have been frustrated by the flimsy method the NCAA uses to select a national football champion. Repeatedly, the college football season ends with a few teams tied for the best record. Both logic and sports tradition suggest that those teams play to determine which school is the true champion. However, the NCAA has utilized a system whereby they determine the champion via opinion, rather than have the teams compete for the title on the field.
Next season that will all change. The NCAA has developed a playoff selection committee, whose primary purpose will be to determine which teams will qualify. Once the selections are made, the teams will actually participate in playoff games and the team that emerges will be crowned champion.
The committee will consist of three Hall of Famers, a retired three-star general and a former member of Congress. Collectively, it will have approximately 230 total years of college football experience and will select four schools to play in a semifinal format. The group has three Phi Beta Kappa graduates, two academic all-Americans and a Rhodes scholar.
It also has Condoleezza Rice.
Rice, 58, a native of Birmingham, Ala., and avid college football fan, was the only woman named to the 13-person committee. (As most sports fans will tell you, college football rules the athletic landscape in the heart of Dixie.)
The former national security adviser's selection came less than 14 months after she broke ground at the Augusta National Golf Club by being named one of the first two female members in the organization's 80-year history.
Nevertheless, Rice's inclusion on the NCAA committee was questioned by some who believe that playing or coaching experience at the collegiate level is necessary to effectively determine which teams should qualify for a playoff.
Conversely, others say that as long as she's' been a consistent, analytical student of the game, she is qualified to take on such responsibility. Count me among that group.
It's no secret that Rice spends most of her Saturdays during the fall watching college football, and she's a big fan of ESPN's "College Game Day" and "College Football Final." She's a thick-skinned woman who is accustomed to receiving criticism, which will be an important asset for a committee member.
Let's not forget that she's very close to the Stanford football program, serving as the university's provost from 1993 to 1999. In fact, she served on selection committees that hired head football coaches Tyrone Willingham and Dennis Green.
And, of course, as Secretary of State, Rice often worked as part of a committee. She is a seasoned professional who is intimately familiar with the group dynamic and what it takes to move toward a consensus.
With that said, the question must be asked — are some people slow to accept Rice as a committee member simply because she is a woman? I certainly hope this isn't the case. Many walls of discrimination have been knocked down in the sports arena, though, and if there is any sexism at play here, that wall will be destroyed, too.
We live in an era of inclusion and diversity. This type of selection committee needs people from a variety of backgrounds. The members should be both men and women, former coaches and players, fans and students of the game.
As a college football fan, I feel that a playoff system is long overdue. I'm glad that we will finally crown a real champion that won it on the field instead of in a conference room. I welcome the committee with open arms and I'm glad that Rice will be a part of it.